Data-Driven Organizing: The Progressive Antidote to Dark Money
Session Type(s): Panel
Starts: Saturday, Aug. 20 10:00 AM (Eastern)
Ends: Saturday, Aug. 20 11:00 AM (Eastern)
Room: 310/311
In the 2022 midterms cycle, the progressive movement has seen an influx of dark money in addition to IE spending to buy elections against progressive candidates. While in the immediate future there's no way to regulate such spending, an antidote has been shown in offsetting spending by already being organized. The progressive movement was birthed out of grassroots organizing, and that must remain our recipe to success no matter the money spent. This panel will focus on how campaigns can offset spending or overcome other financial challenges by building a robust organizing program, using case study examples of some of the greatest campaigns of recent that have accomplished this feat.
Moderator
Panelists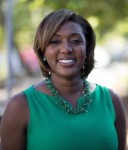 In January 2019, Yvette became the first woman to serve as a Chief Executive Officer at Democracy For America (DFA), as well as the first woman of color in executive leadership.
Yvette is a lawyer, MBA, and former Cincinnati City Council President Pro Tempore. She served as the Federal Electoral Manager for Democracy for America during the second half of 2018 helping to flip control of the US House with historic victories electing the most progressive and diverse coalition of candidates in America's history.
Yvette was elected to the Cincinnati City Council in 2011 and re-elected in 2013 for a four-year term. She served as President Pro Tem from 2013-2017. In 2017 she ran for Mayor of Cincinnati and earned the full support and endorsement of DFA members across the country. She made history as the first Black woman in Cincinnati's 200-year history to win a Mayoral primary but came up just short of victory in the general election despite winning 15 of 26 wards.