Big Tech's Threat to Democracy: The Double-Edged Sword of Social Media
Session Type(s): Panel
Starts: Thursday, Aug. 18 11:00 AM (Eastern)
Ends: Thursday, Aug. 18 12:00 PM (Eastern)
While many activists rely on Big Tech tools to organize, social media poses an existential threat to democracy. From January 6 to anti-mask protests, the impact of growing radicalization and extremism driven by Big Tech is evident in the U.S. and beyond. As disinformation on social media has spread around the world, we face a growing global crisis of confidence in democratic values spurred by algorithmic pursuit of endless corporate profit. This panel will discuss possible solutions to preserve election integrity beyond just the U.S. elections in 2022, including how we can embrace digital organizing more safely with or without Big Tech's tools. We must hold Big Tech to account—and to do so, we must recognize realistic alternatives to the current toxic business model.
Moderator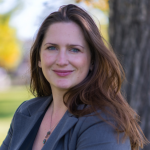 Kaili is Policy and Advocacy Director at Accountable Tech, working to bring about long-term structural reform to tackle the existential threat Big Tech companies pose to our information ecosystem and democracy. Before joining the team at AT, she worked at Mozilla Foundation where she focused on platform accountability around electoral disinformation, algorithmic amplification and consumer privacy.
She has spent more than a decade in the progressive movement organizing for gender justice, corporate accountability, and pro-democracy initiatives. Kaili is based in Colorado and she loves skiing, hiking with dogs, and vegetarian cooking.
Panelists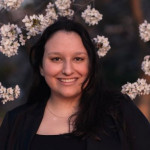 Rose Lang-Maso is a Campaign Manager at Free Press, a nonprofit which sits at the intersection of media and tech justice. Rose builds winning corporate accountability and policy campaigns that advance digital civil rights and mitigate the harms caused by disinformation, hate, and related online forces. As a Harry S. Truman Scholar, Rose seeks to further equity, civil rights, and democracy in all aspects of her work. Prior to joining Free Press, Rose built and managed Common Cause's Stop Disinformation Field Program, a grassroots effort leveraging thousands of volunteers that monitored democracy-related disinformation on social media throughout the 2020 election cycle.
Other sessions: Disinformation and the Vote: Defending the Ballot Box in a Post-Truth World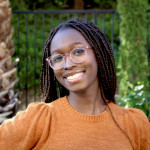 Sofia Ongele is a 21-year-old developer, student, creator, and activist born and raised in Southern California. At 17, she developed her first award-winning app—ReDawn—to support survivors of sexual violence, thereby sparking her passion of using technology to serve marginalized communities. She currently serves as Gen-Z for Change's Digital Strategist where she creates tools to streamline digital civic engagement, tackling issues from the climate crisis to inclusive education. She is a fierce advocate of equity, inclusion, and ethics in technology: to date, she has taught over 140 underrepresented peers how to code at Kode With Klossy programs nationwide. She is also a TikTok creator @sewpheeyuh, where she shares her digital creations, life experiences, and well-informed sociopolitical takes with her audience of nearly 300,000 followers. Her work has earned her accolades such as Paradigm Challenge Grand Prize Winner, CES Young Innovator to Watch, and UNiDAYS Student Woman of the Year; speaking engagements from the steps of the Supreme Court to CES; and features in major publications, including MSNBC, CNN, Bloomberg, Teen Vogue, and more.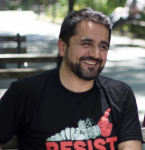 Rafael Shimunov (he/him) is a creative and political activist in Queens, NYC.
You may know Rafael from Ellen Degenerous' attempt to censor his video from social media after it creatively confronted her rehabilitation of George Bush. His viral video analysis that proved the Trump administration shared a doctored video to frame a reporter. His proving the Israeli government attempted to frame Palestinian mourners of journalist Shireen Abu Akleh. His personal narrative as a refugee from Uzbekistan in a livestream at the first Muslim Ban protest, which reached over 16 million viewers and helped spark national protests. Or his unauthorized pop up exhibit at the Whitney Museum of American Art, which contributed to the removal of its board chair for providing weapons used on migrant families in Tijuana, Mexico.
Rafael directs communications at the Athena Coalition, a group of 50+ local and national racial justice and worker organizations, think tanks, public policy, grassroots and small business groups confronting Amazon's intersecting harms on our communities, in its warehouses, and across halls of power.
From creative direct action, digital and radio ads, to millions of pieces of persuasive political mail, Rafael has directed creative and digital at the Working Families Party, Center for Popular Democracy and dozens of their respective state orgs and affiliates, promoting transformational legislation and challenging corporate Democrats with progressives in hundreds of elections.
At Center For Constitutional Rights, Rafael led digital advocacy on cases such as Stop & Frisk (Floyd v. City of New York), on behalf of Sexual Minorities in Uganda (SMUG v. Lively) for an American pastor's role promoting Uganda's Anti-homosexuality Law, with survivors of sexual violence taking on the Vatican at International Criminal Court and UN for aiding child abuse, and towards confronting Democrats and Republicans on Guantanamo Bay and drone warfare.
As Associate Director for Communications at PolicyLink, a national think tank, Rafael helped lead digital campaigns for policymaking communities that pushed legislation to adopt economic and social equity research.
As executive board member at Jews for Racial and Economic Justice, and a member of its Jews of Color caucus, Rafael helped transform 30 years of JFREJ's organizing into electoral power by co-founding The Jewish Vote, a sister org that campaigns for progressive candidates in New York by mobilizing progressive Jewish voters. As an early member, he contributed to IfNotNow's early growth holding US Jewish legacy organizations accountable for upholding apartheid, was part of a small team that successfully destabilized GOP support of white supremacist Congressman Steve King, and was active in successfully opposing Amazon's HQ2 in his hometown of Queens.
His short film about Jewish Women of Color marching at Women's March was an official selection at the International Social Justice Film Festival and was a semi-finalist at the 2020 People's Film Festival in London by Kino. Prior to joining these fights, he helped win a Cannes award for advertising with the very same corporations he works to fight against today.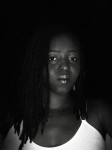 Brittany is an artist, organizer and freedom fighter. She is currently working as the Organizing Director for The Facebook Users Union ( A.K.A FUU People Power). FUU recognized that the ultimate way to hold big tech accountable is to through organized user power.