Big Tech's Threat to Democracy: The Double-Edged Sword of Social Media
Session Type(s): Panel
Starts: Thursday, Aug. 18 11:00 AM (Eastern)
Ends: Thursday, Aug. 18 12:00 PM (Eastern)
While many activists rely on Big Tech tools to organize, social media poses an existential threat to democracy. From January 6 to anti-mask protests, the impact of growing radicalization and extremism driven by Big Tech is evident in the U.S. and beyond. As disinformation on social media has spread around the world, we face a growing global crisis of confidence in democratic values spurred by algorithmic pursuit of endless corporate profit. This panel will discuss possible solutions to preserve election integrity beyond just the U.S. elections in 2022, including how we can embrace digital organizing more safely with or without Big Tech's tools. We must hold Big Tech to account—and to do so, we must recognize realistic alternatives to the current toxic business model.
Moderator
Kaili is Partnerships and Policy Director at Accountable Tech, working to bring about long-term structural reform to tackle the existential threat social media companies pose to our information ecosystem and democracy. Most recently, she worked at Mozilla Foundation where she focused on platform accountability around electoral disinformation, algorithmic amplification and consumer privacy.
Panelists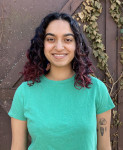 Jaya (she/her) is the Campaign Manager for UltraViolet where she works to identify and run campaigns focused on sexism in the media, Big Tech and platform accountability, the spread of sexist disinformation, and rapid response.
Over the past year, UltraViolet released the first-of-its-kind set of policy recommendations for the major platforms and report card assessing existing platform policies with our recommendations; rereleased our media guide, adding in updates focused on the historic nomination of Justice Ketanji Brown Jackson; and activated our members and partners on a number of rapid response and long term campaigns focused on reducing and inoculating against hate, white supremacy, and disinformation online.
Jaya comes to this work from her past experiences as an organizer, rooted in intersectional, anti-racist, and community-based advocacy. A graduate of New York University (NYU), Jaya studied Global Public Health, Anthropology, and Social and Public Policy. Prior to UltraViolet, Jaya was the Community Organizer at Fenway Community Development Corporation, where she advocated for affordable and equitable housing, transit, and policy in Massachusetts. As the daughter of immigrants, Jaya is passionate about building solidarity and kinship across communities to achieve a more equitable society. Based in Massachusetts, Jaya is passionate about local community organizing, dancing, and baking.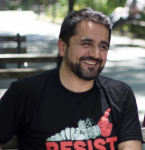 Rafael Shimunov (he/him) is a creative and political activist in Queens, NYC.
You may know Rafael from Ellen Degenerous' attempt to censor his video from social media after it creatively confronted her rehabilitation of George Bush. His viral video analysis that proved the Trump administration shared a doctored video to frame a reporter. His proving the Israeli government attempted to frame Palestinian mourners of journalist Shireen Abu Akleh. His personal narrative as a refugee from Uzbekistan in a livestream at the first Muslim Ban protest, which reached over 16 million viewers and helped spark national protests. Or his unauthorized pop up exhibit at the Whitney Museum of American Art, which contributed to the removal of its board chair for providing weapons used on migrant families in Tijuana, Mexico.
Rafael directs communications at the Athena Coalition, a group of 50+ local and national racial justice and worker organizations, think tanks, public policy, grassroots and small business groups confronting Amazon's intersecting harms on our communities, in its warehouses, and across halls of power.
From creative direct action, digital and radio ads, to millions of pieces of persuasive political mail, Rafael has directed creative and digital at the Working Families Party, Center for Popular Democracy and dozens of their respective state orgs and affiliates, promoting transformational legislation and challenging corporate Democrats with progressives in hundreds of elections.
At Center For Constitutional Rights, Rafael led digital advocacy on cases such as Stop & Frisk (Floyd v. City of New York), on behalf of Sexual Minorities in Uganda (SMUG v. Lively) for an American pastor's role promoting Uganda's Anti-homosexuality Law, with survivors of sexual violence taking on the Vatican at International Criminal Court and UN for aiding child abuse, and towards confronting Democrats and Republicans on Guantanamo Bay and drone warfare.
As Associate Director for Communications at PolicyLink, a national think tank, Rafael helped lead digital campaigns for policymaking communities that pushed legislation to adopt economic and social equity research.
As executive board member at Jews for Racial and Economic Justice, and a member of its Jews of Color caucus, Rafael helped transform 30 years of JFREJ's organizing into electoral power by co-founding The Jewish Vote, a sister org that campaigns for progressive candidates in New York by mobilizing progressive Jewish voters. As an early member, he contributed to IfNotNow's early growth holding US Jewish legacy organizations accountable for upholding apartheid, was part of a small team that successfully destabilized GOP support of white supremacist Congressman Steve King, and was active in successfully opposing Amazon's HQ2 in his hometown of Queens.
His short film about Jewish Women of Color marching at Women's March was an official selection at the International Social Justice Film Festival and was a semi-finalist at the 2020 People's Film Festival in London by Kino. Prior to joining these fights, he helped win a Cannes award for advertising with the very same corporations he works to fight against today.