A Threat to Racial Justice: Criminalizing Protest and State Interference
Session Type(s): Panel
Starts: Thursday, Aug. 18 11:00 AM (Eastern)
Ends: Thursday, Aug. 18 12:00 PM (Eastern)
The right to dissent, protest, and engage in participatory local democracy is fundamentally American. These freedoms have been particularly important over the last few years, as more Americans than ever before began taking to the streets to protest racism in America. In response, many conservative state legislatures began a new wave of attacks on democracy and democratic institutions in 2021, resulting in 10 states criminalizing protest and four states banning localities from cutting police budgets. This session will examine this trend through a case study of Florida's HB1 which passed in 2021 and is currently facing a community-centered legal challenge on behalf of multiple Florida municipalities.
Moderator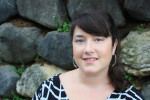 Katie is the Lead Consultant at Local Solutions Support Center (LSSC). During her tenure at LSSC, Katie has focused on deepening cross-movement collaboration by building and supporting state campaigns and coalitions to defend against state interference in local policy-making and advance home rule reform. As Lead Consultant, Katie facilitates communication, collaboration, and engagement with LSSC's network and partners and coordinates the day-to-day operation of LSSC.
Katie brings twenty years of experience with social justice and political work to LSSC, highlights from which include securing groundbreaking legal protections for same-sex couples and transgender individuals in her home state of Wisconsin, leading a national campaign for inclusive nondiscrimination policies, and successfully fundraising for multi-million dollar grassroots campaigns and political candidates. In 2015, Katie launched her consulting practice, Katie B. Strategies, LLC, through which she facilitates aligning around a shared mission, engaging and developing leaders, and delivering real successes to the communities her clients serve, bringing these groups of people together to make the world more fair, equal, and inclusive.
Panelists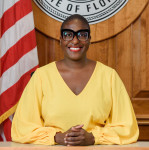 Gail Johnson is a former City Commissioner in Gainesville, Florida, where she was elected at-large in 2018. She is currently a co-founder and organizer at Florida Forward Coalition. As a former policy maker and in her new role, she primarily centers the voices and needs of those most marginalized, in order to be a catalyst for inclusive decision making and systemic change rooted in justice and equity.
She graduated with a Bachelor of Arts from the University of Florida with a degree in English literature. Her previous career included founding and publishing an arts and culture magazine in Brooklyn, NY, and working at the feminist publication, BUST magazine.
She is on the board of Planned Parenthood of South, East and North Florida, co-chair of the governance committee at PPSENFL, a member of Local Progress and a founding member of the Local Progress Florida Organizing Committee. She is the former chair of the Race and Equity Subcommittee at the City of Gainesville, and served on several committees for the National League of Cities, including the Race, Equity and Leadership Council, Women in Municipal Government and the Black Caucus.
She is passionate about social justice, food justice, carceral injustice and reproductive justice. She supports efforts for achieving racial and gender equity, both in city government and the community at large.
From insight to implementation and every step in between, Johnson thrives in unfamiliar territory with the intention of improving the collective experience. When she isn't spending her time at meetings, community events, talking with community members or researching policy, she is raising a brilliant tween who dabbles in the performing arts and sports.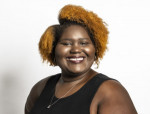 Francesca Menes is the Deputy Organizing Director of Local Progress, a movement of local elected officials advancing a racial and economic justice agenda through all levels of local government. She is also a Co-Founder of The Black Collective, a movement committed to promoting a shared agenda to elevate the political consciousness and amplify the economic power of Black communities.
Francesca is a political educator, legislative and policy strategist, entrepreneur and former television host committed to creating spaces to educate, inform and engage our people on the issues that are important in their daily lives; helping them to understand the personal is political and democratizing knowledge. She is the daughter of working-class Haitian immigrants raised in Miami's Little Haiti community and mother of Joie.
For over a decade, Francesca has led coalition building, legislative, policy and advocacy campaigns with undocumented families, immigrants, refugees, students, Black and communities of color with a focus on policy-making process. In these spaces, she successfully led organizing efforts to draft, introduce and pass local, state, federal resolutions, policies and laws on the issues of education, immigration, housing, wage protections and job security. Other key issues for advocacy: preemption/state interference and local democracy/governance.
Francesca graduated from Florida International University, earning her Bachelor of Arts in Political Science and Women's Studies with a minor in Philosophy and a certificate in National Security Studies and her Master's in Public Administration, with a certificate in Community Development. Francesca is the former Treasurer for the Florida Democratic Party, former State Committeewoman for the Miami-Dade Democratic Party. She currently serves on the Miami-Dade County N.W. 79th Street Corridor Community Redevelopment Agency.