Power Mapping: How to Target with Intention and Make an Impact
Session Type(s): Training
Training Tag(s): Grassroots Organizing/Campaigns
Starts: Friday, Oct. 8 1:00 PM (Eastern)
Ends: Friday, Oct. 8 2:00 PM (Eastern)
What is power mapping? It's not just about mailing lists and data points. It's campaign work to build community power and effect real systemic change. We'll give you practical, useful instructions to target with intention. You must ask the right questions at the right time in your campaign planning. This training will show you how to power map, to effectively reach and influence your targets. This workshop is designed for those newer to organizing.
Moderators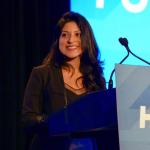 Nikki Koutsochilis is a Latinx organizer, facilitator, videographer and union activist. Nikki was elected as Co-Chair of the newly formed Black, Indigenous and People of Colour Committee with the BC New Democratic Party and Co-Chairs the Racial Justice and Equity Committee with the New Democratic Party of Canada. Nikki is an expert campaigner and has worked on grassroots, issue based and electoral campaigns. She has a deep love for strategizing, developing creative campaigns; and is unapologetic when it comes to moving past tokenism, and bridging the gap between underrepresented communities and electoral politics. Nikki advocates on workers rights, and social justice issues as a delegate to her local labour council as a member of the Canadian Media Guild – Freelance Branch; and was recently appointed as to the Racial and Ethno-Cultural Equity Advisory Committee with the City of Vancouver. She is passionately involved in direct action with a Vancouver-based migrant justice collective; on evenings and weekends you might find her connecting with migrant agricultural workers, or dancing at QTBIPoC events.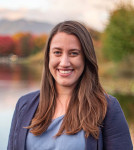 Abbey is an experienced Community Marketing Specialist for New/Mode where she nurtures a dynamic and progressive community through organizing top-tier trainings and facilitating mutually beneficial partnerships. Prior to joining New/Mode, Abbey worked as a Provincial Organizer for Dogwood BC where she played an integral role in engaging and mobilizing volunteers. In addition, Abbey designed and implemented strategy for two successful election campaigns and fundraised for the Wilderness Committee, one of Canada's largest environmental charities.
Throughout, Abbey has grappled with the implications being a white settler engaging in activism on unceded Indigenous land. She strongly believes that it is imperative to respect and uphold Indigenous rights in the fight for a more socially and environmentally just future.