Making Progress on Marijuana Policy Reform in Congress
Session Type(s): Panel
Starts: Thursday, Oct. 7 2:15 PM (Eastern)
Ends: Thursday, Oct. 7 3:15 PM (Eastern)
Join Representatives Barbara Lee and Earl Blumenauer, along with key advocates, to discuss pending efforts in Congress to repeal the prohibition and criminalization of cannabis at the federal level. We'll discuss the MORE Act which passed in December of 2020 and similar legislation.
Moderator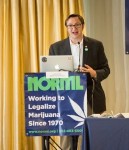 Justin Strekal is the Political Director for NORML, where he serves as an advocate to end the federal prohibition of marijuana and to reform our nation's laws to no longer treat marijuana consumers as second class citizens.
Before working on drug policy, Justin worked on tax, wage, and campaign finance policy and for electoral campaigns throughout the country at every level of government.
Panelists
For more than 40 years, Congressman Earl Blumenauer (OR-03) has fought for the reform of America's outdated cannabis laws—becoming one of America's leading voices in modernizing federal cannabis policies and ending the failed War on Drugs.
As an Oregon state legislator, Blumenauer supported the Oregon Decriminalization Bill of 1973, which abolished criminal penalties for possession of small amounts of cannabis.
Elected to the U.S. House of Representatives in 1996, he has championed several legislative efforts to protect medical cannabis patients, allow the federal government to tax and regulate cannabis, and normalize taxes and banking for state-legal cannabis businesses.
In February 2017, Blumenauer launched the bipartisan Congressional Cannabis Caucus, which he co-chairs with Congresswoman Barbara Lee.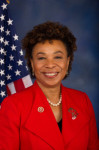 As one of the strongest, most progressive voices in the House, Congresswoman Barbara Lee is committed to serving the residents of her district and also advancing progressive ideals nationally.
Congresswoman Lee, representing CA's 13th Congressional District, was elected to Congress in 1998 and holds key positions, including serving as member of the House Appropriations and Budget Committees. She is a former Chair of the Congressional Black Caucus and co-founded the Congressional Out of Poverty Caucus. Barbara is also the Whip and former Co-Chair of the Congressional Progressive Caucus and chairs the Democratic Whip's Task Force on Poverty and Opportunity.
Other sessions: Rebalancing the Supreme Court: Why Progressives Must Take Back the [Stolen] Court to Save Our Democracy