Digital Fundraising 101: Building People Power with Small-dollar Donors
Session Type(s): Training
Training Tag(s): Basic Online Organizing
Starts: Thursday, Oct. 7 3:45 PM (Eastern)
Ends: Thursday, Oct. 7 4:45 PM (Eastern)
Folks all over the country have banded together to fight the impact of the pandemic, combat racism and systems of oppression, and protect our democracy. Small-dollar donors are an important part of this work, forming a powerful base of supporters who are ready to get involved and become agents for progressive change. Digital fundraising experts from ActBlue will show you how to reach these donors by building horizontal relationships, using the theory of change, crafting a strong fundraising ask, and employing cutting-edge digital fundraising tools.
This session is sponsored by ActBlue.
Moderator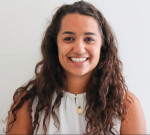 In 2016, Ruby began her career dedicated to shifting the power structures of our country. Over the years, she's worked as a fundraiser, a campaign staffer and a trainer. In each of these roles, she has developed her ability to reach people where they're at and her passion for creating a seat at the table for folks who have historically been left out of the political process. After fundraising with nonprofits for 3 years, Ruby dove head first into the world of political campaigning as the Deputy Training Director for the 2016 Hillary For America campaign in the battleground state of Ohio. In this role, she executed a statewide training program that supported the onboarding, development, empowerment, and retention of hundreds of staff members, fellows, and volunteers. In 2017, Ruby moved to EMILY's List, where she supported the planning and execution of a year-long Run to Win training program, which came about as a result of the surge of tens of thousands of women coming to the
organization to learn about running for office. During the 2017 and 2018 cycle, EMILY's List trained 5000+ women, 30% of the total number of women the organization has trained since its founding in 1985. In 2019, Ruby moved back to her hometown of Boston to take a position as the first Training Director at ActBlue. Here, in collaboration with the incredible ActBlue staff, she has built out both a training team and accessible training programs to provide candidates, campaigns, nonprofits and movement leaders the information, support and resources they need to create and run a digital fundraising program. Since the creation of the ActBlue training team, they have trained over 3,000 folks. Ruby remains committed to building power in our communities through training.
Ruby lives in Boston with her partner of two years and their two cats, Hops and Squirrel.
Other sessions: Manager Confessions: This Meeting Could Have been an Email