Campaign Comms From A to Tweet
Session Type(s): Training
Training Tag(s): Communications
Starts: Thursday, Oct. 7 1:00 PM (Eastern)
Ends: Thursday, Oct. 7 2:00 PM (Eastern)
Candidates and organizations, especially if they're just getting started, must craft and master their messages — in plain language and in all media. This can mean the difference between success and failure. We'll discuss tips for doing this, and also how to keep your digital and communications teams playing well with each other! This session will be a useful referesher for experienced communications pros and a good introduction for people new to the field.
Moderators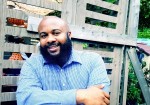 AJ is a writer, communications professional, and owner of Springer Communications. He brings 19 years' experience to the art of storytelling. As a communications strategist, AJ has worked for elected officials at the state and federal level,  one of the nation's largest school districts and Fortune 500 company.  Also an accomplished ghostwriter, he's written for legislators, professional athletes, public school leaders, nonprofit CEOs, and executives.
His lengthy relationship with media began in 2000, during an internship with Power 88 KCEP-FM in Las Vegas. The following summer, he became an on-air talent, and co-hosted a weekend radio show for seven years. AJ's written work has been published in Southwest The Magazine, Ebony, BET, Jet, Hip Hop DX, AOL Black Voices Fight! Magazine and more.