What the Next Administration Can Do for the Labor Movement
Session Type(s): Panel
Starts: Friday, Aug. 14 11:00 AM (Eastern)
Ends: Friday, Aug. 14 11:50 AM (Eastern)
Workplace rights and union membership have been eroding for decades, as the balance of power tips ever further toward employers and corporations. The Obama administration approached the problems with regulations like expanded overtime protection—which the Trump administration quickly reversed. If Democrats win control of the government in 2020, how can they achieve big gains for workers? This panel brings together some of labor's most visionary thinkers and movement leaders and a rank-and-file worker to discuss where to focus efforts. Our panelists look at bold new ideas with growing support: a $15 minimum wage, a Green New Deal that guarantees good jobs, new labor standards like requiring a just cause for firings, and more.
Moderator
Labor reporter, In These Times.
Panelists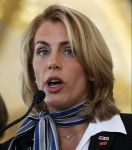 Sara Nelson is the International President of the Association of Flight Attendants-CWA, AFL-CIO. She has been recently recognized for her efforts to help end the longest federal shutdown in U.S. history by highlighting threats to aviation security and calling for labor to discuss taking action with a General Strike.
Sara became a union activist shortly after starting at United Airlines in 1996. In the wake of 9/11, she saw how those with money and power would use tragedy as a weapon against working people, and she committed her life fight back by building power through solidarity.
In addition to fighting for safe working conditions with fair pay and benefits, Sara has led major campaigns to ban knives on planes, increase Flight Attendant federal rest requirements, fight on-board sexual harassment and assault, create mandatory training for Flight Attendants to recognize and report human trafficking and much more.
Sara has served as a leading voice on issues facing women in the workplace and across the country, encouraging women everywhere to "Join Unions, Run Unions."
Shaun Richman spent a decade and a half as a union organizer and representative. He was a Deputy Director of Organizing for the American Federation of Teachers, where he ran the union's national charter school organizing division. As a writer, he has focused on union strategy and structure and proposals for labor law reform. He has been published in The American Prospect, In These Times, Jacobin, The New York Daily News, the New York Times and the Washington Post. His new book, Tell the Bosses We're Coming: A New Action Plan for Workers in the Twenty-First Century, is out now from Monthly Review Press.