What Movement Politics Looks Like After Election Day
Session Type(s): Panel
Starts: Thursday, Aug. 13 11:00 AM (Eastern)
Ends: Thursday, Aug. 13 11:50 AM (Eastern)
More grassroots leaders and organizers are running for office on bold, unapologetically progressive platforms than ever before. Yet, as candidates and elected officials, they face real challenges: pushing for liberation within oppressive structures, leveraging progressive power within a more moderate caucus, navigating their relationship to the movements they come from and surviving an avalanche of vicious attacks. We'll hear from movement candidates and elected officials about their experiences and what they need from our movement to stay in office, stay sane and enact real change. We will explore how to better prepare candidates, build power together and reshape our democracy with an effective inside-outside strategy.
Moderator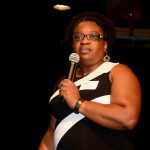 Brandy H. M. Brooks is the Co-Director of Political Healers, a leadership development strategy, a powerful analysis, and new way of building campaigns that is deeply grounded in the leadership and experience of womxn of color and femme people of color. She is also the founder and chief executive of Radical Solutions LLC﹘a training, consulting and coaching practice that supports individuals and organizations building power for a just, equitable, and sustainable future. Brandy is an Afro-Latina organizer, educator, facilitator, and designer with 15 years of experience working on social and environmental justice. She focuses on community organizing and power-building; community-based design and land use planning; and food justice and food sovereignty. Brandy was a candidate for Montgomery County (MD) Council At-Large in the 2018 Democratic Primary.
Panelists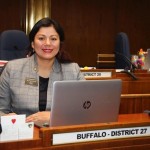 Ruth Buffalo is originally from Mandaree, North Dakota which is located along the southwestern edge of the Ft. Berthold Indian Reservation. She is a citizen of the Mandan Hidatsa Arikara Nation and a descendant of the Chiricahua Apache. She currently resides in south Fargo with her husband and four children. She recently was elected into office in 2018 to serve North Dakota as a House Representative for District 27 in south Fargo.
Ruth is a public health professional and educator. She is a volunteer to several local, statewide and national boards which focus on improving the quality of life for all people. She has served on advisory councils focused on women's health, women's leadership development and local food systems. Ruth served one term as the North Dakota Democratic-Nonpartisan League Secretary (2017), she was the first Native American elected into a leadership role within the state party. She actively recruited four Native Americans to run for leadership roles within the state party in 2019, two were successfully elected.
She is also the former chair of the North Dakota Human Rights Coalition and recipient of National Center for American Indian Enterprise Development's 40 under 40 leadership award. The Fargo Forum newspaper named her among local leaders to watch in 2019.
She is an independent consultant with a focus on research and advocacy, community capacity-building and continued reconciliation efforts through education. Ruth hopes her efforts will contribute to policy changes in all levels of government for future generations. She is a community organizer for all people and works diligently to ensure all people are informed of the electoral and legislative process. Her passion is safe and healthy communities.
Ruth earned a Bachelor of Science in Criminal Justice and Master degrees in Management, Business Administration and Public Health.
Elianne Farhat (she/her) has been a leader in many successful local, state and national campaigns throughout her 15 years of community, labor, and electoral organizing. Elianne's commitment to building power in poor and working class communities of color has been a constant thread through her diverse work experience – whether that be while organizing New American voters in Chicago, electing Minnesota's first progressive governor in more than 20 years, or advancing strategic campaigns securing historic policy wins for millions of working families. In 2018, she became TakeAction's Executive Director and is responsible for operationalizing the ambitious vision of TakeAction Minnesota's leadership into concrete and meaningful action. Elianne is the first in her Lebanese father's family to be born in the United States and of Lakota (Standing Rock) descent on her mother's side. She serves on the board of People's Action and is the recent recipient of the Joan Growe Award for Distinguished Commitment to Expanding Access to Democracy and Justice.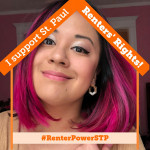 Mitra Jalali is a former classroom teacher, organizer and policy aide now serving on the St. Paul City Council. Her priorities since being elected to office are attainable and affordable housing and homeownership, sustainability and action on climate, building community wealth and community-first public safety.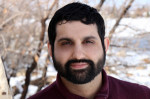 In 2019, after years of grassroots organizing, Juan ran for Aurora City Council Ward 4 – and with the help of hundreds of local volunteers and supporters, endorsements from organizations like Colorado People's Action, Denver Democratic Socialists of America, Denver Area Labor Federation, Colorado Black Women for Political Action, and thousands of doors knocked – he won!
Juan took his oath to serve Aurora in December 2019 and had to hit the ground running before he even sat down behind the dais. Since arriving in office only 7 months ago, Juan has risen to the challenge of 2020 and tirelessly committed himself to serving his constituency. Aurora has been the center of local and national tragedy almost constantly since before Juan was elected; as one of the state of Colorado's largest epicenters of Coronavirus spread, Juan was a champion for masking and public health early in the year, only to be challenged by his right-wing counterparts AND centrist Democrats. The State of Colorado finally put a mask mandate in place in July, after months of Juan's advocacy for public health. Juan has also led public conversations about eviction relief and sponsored legislation to create more housing options to help alleviate the coming housing crisis exacerbated by COVID-19.
Only months before Juan was elected, Aurora also gained national attention for the beating, drugging, and death in police custody of a young black man, Elijah McClain. Although the tragedy occurred before Juan took office, he has spent much of his first seven months in office advocating for the McClain family, the community, and radically transforming policing. Juan has been attacked by his right-wing colleagues for attending protests and protecting constituents from police brutality. Juan is currently working on and plans to sponsor legislation that would prevent police from using chokeholds, prohibit the use of sedatives within the context of law enforcement activity, and demilitarize the Aurora Police Department. He also plans to advocate for reallocating large portions of the bloated police budget to community services that proactively reduce crime and create a safer environment for Aurora's families.
Juan's campaign motto was "¡Siempre pa'lante!" or "Always forward!", so Juan is particularly excited to be invited to be part of this conversation, because he understands how much community partnerships are necessary to create real change after reaching elected office. The last seven months have not been easy, and Juan has faced challenges he never imagined before running for office – he is honored to share his stories and to work with attendees to build power, and create real change as a part of this Progressive movement.
¡Siempre pa'lante!