More grassroots leaders and organizers are running for office on bold, unapologetically progressive platforms than ever before. Yet, as candidates and elected officials, they face real challenges: pushing for liberation within oppressive structures, leveraging progressive power within a more moderate caucus, navigating their relationship to the movements they come from and surviving an avalanche of vicious attacks. We'll hear from movement candidates and elected officials about their experiences and what they need from our movement to stay in office, stay sane and enact real change. We will explore how to better prepare candidates, build power together and reshape our democracy with an effective inside-outside strategy.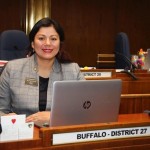 Ruth Buffalo is originally from Mandaree, North Dakota which is located along the southwestern edge of the Ft. Berthold Indian Reservation. She is a citizen of the Mandan Hidatsa Arikara Nation and a descendant of the Chiricahua Apache. She currently resides in south Fargo with her husband and four children. She recently was elected into office in 2018 to serve North Dakota as a House Representative for District 27 in south Fargo.
Ruth is a public health professional and educator. She is a volunteer to several local, statewide and national boards which focus on improving the quality of life for all people. She has served on advisory councils focused on women's health, women's leadership development and local food systems. Ruth served one term as the North Dakota Democratic-Nonpartisan League Secretary (2017), she was the first Native American elected into a leadership role within the state party. She actively recruited four Native Americans to run for leadership roles within the state party in 2019, two were successfully elected.
She is also the former chair of the North Dakota Human Rights Coalition and recipient of National Center for American Indian Enterprise Development's 40 under 40 leadership award. The Fargo Forum newspaper named her among local leaders to watch in 2019.
She is an independent consultant with a focus on research and advocacy, community capacity-building and continued reconciliation efforts through education. Ruth hopes her efforts will contribute to policy changes in all levels of government for future generations. She is a community organizer for all people and works diligently to ensure all people are informed of the electoral and legislative process. Her passion is safe and healthy communities.
Ruth earned a Bachelor of Science in Criminal Justice and Master degrees in Management, Business Administration and Public Health.