Make Beautiful Trouble: A Strategy Game for the Revolution
Session Type(s): Training
Starts: Saturday, Aug. 15 12:00 PM (Eastern)
Ends: Saturday, Aug. 15 12:50 PM (Eastern)
The key strategies and tactics that have inspired centuries of people-powered victories are now in a deck of 100+ cards YOU can play! In this training, we'll use the new Beautiful Trouble Strategy Card Deck to guide participants through a Design-an-Action rapid prototyping game. Teams will use their cards to spark an action idea that addresses their issue & goal. Play with an array of creative tactics that activists use in real campaigns for change, created collaboratively by over 100 activists from around the world. Learn how gaming is bringing progressive ideas to new audiences & inspiring action toward holding candidates accountable and mobilizing voters for the November election.
Trainers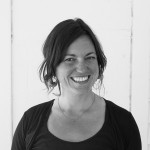 Rae Abileah is a social change strategist, author, and editor for collective liberation. She is a trainer at Beautiful Trouble, and co-creator of the global Climate Ribbon art ritual. She was the co-director of CODEPINK, consulted on digital strategy for social justice at ThoughtWorks, and now runs her own consultancy, CreateWell. Rae is a contributing author to books including Beyond Tribal Loyalties: Personal Stories of Jewish Peace Activists. Rae graduated from Barnard College at Columbia University, and received ordination by the Kohenet Hebrew Priestess Institute. She's a first-generation American, and her Dutch and Ashkenazi Jewish ancestry informs her work toward dismantling white supremacy. She's based in the Colorado Rockies, occupied Arapaho land, and frequents California and New York.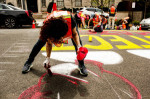 Nadine an innovative artist, political organizer, strategic nonviolent actionista and current Training Director for Beautiful Trouble. Creative use of the arts in cultural resistance and public protest is at the core of her work. She contributed to the books "Beautiful Trouble: A Toolbox for Revolution" (2012, O/R Press), "Beautiful Rising: Creative Resistance from the Global South" (2017, O/R Press) and "We Are Many, Reflections on Movement Strategy from Occupation to Liberation" (2012, AK Press). She authored a Special Report "Education & Training in Nonviolent Resistance" (2016, USIP) and co-authored "SNAP:An Action Guide to Synergizing Nonviolent Action and Peacebuilding" (2019, USIP.) Check out her "Arts of Protest" column on WagingNonviolence.org.