Guarantees for a Good Life: Income, Housing, Jobs and Family Care
As people struggle with rising child care, housing, and other costs while wages stagnate or fall, we know we deserve better. In communities across the country, people are demanding more from policymakers, and political momentum is building to demand that everyone is guaranteed the foundations for a good life. This panel will discuss four campaigns built on guarantees: housing, jobs, family care, and income. We will learn from pilot sites amd successful campaigns, and focus on what we can do together to elevate the idea of guarantees.
Moderator
Panelists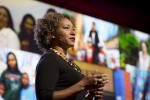 Mia Birdsong has spent more than 20 years fighting for the self-determination and pointing out the brilliant adaptations of everyday people. In her current role as Co-Director of Family Story, Mia is updating this nation's outdated picture of the American family (hint: rarely 2.5 kids and two heterosexual parents living behind a white picket fence). Mia, whose 2015 TED talk–titled, "The Story We Tell About Poverty Isn't True"–has been viewed over 1.2 million times already, is an Ascend Fellow of The Aspen Institute and a New America California Fellow.
Mia is a modern Renaissance woman. She has spent time organizing to abolish prisons, teaching teenagers about sex and drugs, interviewing literary luminaries like Edwidge Danticat, David Foster Wallace, and John Irving, and attending births as a midwifery apprentice. These are some of the many reasons that Mia was recognized as one of Colorlines' "15 Remarkable Women of Color Who Rocked 2015."