Disaster Strategy So White: How a Lack of Inclusivity Harms Recovery Efforts
Session Type(s): Panel
Starts: Friday, Aug. 14 11:00 AM (Eastern)
Ends: Friday, Aug. 14 11:50 AM (Eastern)
More often than not, mainstream efforts intended to support people impacted by natural events do not take into account how race, disability, and other manifestations of marginalization can impact both access to and effectiveness of disaster relief services. Panelists will discuss how centering an intersectional focus into disaster strategy results in positive longitudinal outcomes–and is a crucial component to social change.
Moderator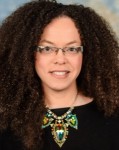 Reyma McCoy McDeid is the Executive Director of Central Iowa Center for Independent Living in Des Moines.
She has carved out a unique career in employment services, disability advocacy, and education and she works to engage voters with disabilities into the political process and educate elected officials on the issues that impact the nation's largest marginalized community. She holds a Master's degree in Nonprofit Administration with a concentration in Business; her vocation is supporting fellow individuals on the Autism spectrum to lead independent, fulfilling lives.
Other sessions: They Said WHAT? Black Disabled Women Discuss the Cultural Shift in White-dominated Social Justice Spaces
Panelists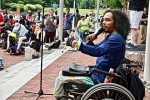 Originally from Puerto Rico, Germán has been an active community organizer with Philadelphia ADAPT, is a leader in direct action, and is the first person with a significant spinal cord injury to deploy to a disaster-impacted area. With Portlight and the Partnership for Inclusive Disaster Strategies, he deployed to Puerto Rico shortly after Hurricane Maria. Germán has a key voice in the work of the Partnership shaping language and content for two legislative projects- the Real Emergency Access for Aging and Disability Inclusion in Disasters Act (REAADI) and the Disaster Relief Medicaid Act (DRM). Most recently, Germán was elected as the Regional Focal Point for the Americas for the United Nations Disaster Risk Reduction Stakeholder Group of Persons With Disabilities.