More often than not, mainstream efforts intended to support people impacted by natural events do not take into account how race, disability, and other manifestations of marginalization can impact both access to and effectiveness of disaster relief services. Panelists will discuss how centering an intersectional focus into disaster strategy results in positive longitudinal outcomes–and is a crucial component to social change.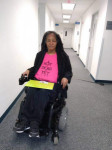 Anita Cameron (she/her/hers) began working as Not Dead Yet's Director of Minority Outreach in January 2017. She has met with national and state policy makers and written persuasively about opposition to a public policy of assisted suicide from the perspective of communities of color who experience disparities in access to healthcare.
From 2004-2006, she worked at the American Association of People with Disabilities (AAPD) in Washington, DC, as the DC Metro Disability Vote Organizer, working with the Board of Elections and Ethics to increase voting access and get disabled people to serve as poll workers and election judges.
Anita worked as Systems Advocate for the Center for Disability Rights in Rochester, NY, from 2006-2010, addressing a broad range of disability rights and access issues with advocates and lawmakers at the local, state and national levels.
In 2004, while in Washington, DC, Anita trained to become a CERT (Community Emergency Response Team) member. In 2008, she helped to form the first CERT class consisting of people with disabilities in Rochester, New York. After joining Denver CERT in 2011, Anita became the first visually impaired CERT instructor for the State of Colorado, and in 2013, became a CERT Program Manager for the State. She has assisted in numerous exercises and real-world incidents with Denver CERT, including serving as a radio communications operator during the Colorado Flood of 2013 and remotely assisting survivors of Hurricanes Harvey and Irma in disaster relief in 2017. Anita has written extensively, for numerous agencies and publications, on emergency and disaster preparedness for people with disabilities, as well as the role and participation of the disability community in emergency management.
Since 1986, Anita has volunteered with ADAPT, a national, grassroots disability rights organization. In 34 years of involvement, she has risen to a position of national leadership and has been arrested 139 times for nonviolent civil disobedience fighting for the civil rights of all disabled folks. She was invited to the White House on two occasions, has met three sitting U.S. Presidents and two Vice-Presidents, helped to organize a national march, and was published in "Voices of A People's History of the United States", by the late, award-winning historian, Howard Zinn.
As a Black Disabled Lesbian, Anita has dealt with racisim, sexism, ableism, and homophobia – sometimes combinations of these. She has used her experience of discrimination and her unique intersectional perspective to promote understanding among different groups of disenfranchised people and increase social justice among those fighting for social justice. She worked to get nondiscrimination ordinances for the LGBTQIA2S+ community in Chicago, IL and Denver, CO. She helped organize the first Pride March in Colorado Springs, Colorado, wrote a nondiscrimination policy for a Center for Independent Living in Denver, CO, and served as the national representative for the disability community at the 1993 March on Washington. 
In 2017, the Autistic Self Advocacy Network honored Anita with the 2017 Service to the Self Advocacy Movement award for her national advocacy work, and in 2018, Anita received the Lead On award for her work with ADAPT.
Anita also serves on the National Disability Leadership Alliance's Steering Committee, as well as it's Racism Taskforce, and co-Chaired the Intersectional Justice Committee for ADAPT.