"White men are the safest political candidates because they're the most electable." "For the sake of public safety and order, people accused of crimes should be jailed before trial." "People participating in sex work are vulnerable and victimized, and policies criminalizing sex work can help protect them." Through coverage choices, story angles, headlines and more, the national media tells us stories about ourselves and our society—many of them inaccurate and toxic. Zeroing in on three dominant and timeworn media meta-narratives that need to be dismantled, hear from journalists on how they work to challenge those toxic narratives and lift up new ones.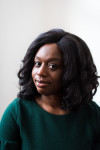 Anoa holds a Master in City and Regional Planning from The Ohio State University as well as a Juris Doctorate from West Virginia University College of Law where she was a W.E.B Dubois fellowship recipient. Expanding on her experience as an attorney, Anoa has been a grassroots digital organizer providing strategic support to several progressive organizations. Beginning in June 2015 as a grassroots volunteer with Women for Bernie, Anoa's primary focus has been on building collaborative political spaces that fundamentally change the way communities and grassroots organizations engage with the social and political systems around us.
Refusing to back down, and pushing past defensiveness and discomfort, Anoa continues to challenge progressives to build better discourse and approaches to winning. Anoa says, "when we move beyond these differences and become fully inclusive, we can unite progressives from the hood to the holler and everywhere in between. Working class and rural is not only white, and our approach to reclaiming lost ground needs to reflect this reality."
In addition, Anoa is a growing presence in the world of independent progressive media, hosting The Way with Anoa, a weekly talk show and podcast, focusing on politics, news, and community engagement. Anoa serves as co-Managing Editor of The Progressive Army. She is a speaker and presenter in progressive spaces.