Triple Threat: Young Women of Color Winning Elections
Session Type(s): Panel
Starts: Friday, Jul. 12 1:30 PM
Ends: Friday, Jul. 12 2:30 PM
Room: 119B
Young, elected women of color speak to the role that racism and sexism played throughout their campaigns. Each panelist will tell her story about personal and systemic challenges they faced as they mounted successful, grassroots-driven bids for public office and share potential solutions, including how activists can support individual candidates as well as the broader movement to help more women of color win their first elections, reelections, and runs for higher office. Panelists will bring diverse perspectives from across the country on how they dealt with the intersectionality of racism and sexism in every aspect of their campaigns, from the decision to run for office to raising money and dealing with institutional supporters and allies.
Moderator
Panelists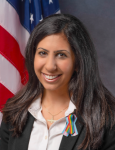 Orlando native, daughter of immigrants, authentic, and unafraid progressive. Worked at Planned Parenthood, UCF grad, elected in 2018 to serve Florida State House District 47.
Summer Lee is the Democratic nominee in Pennsylvania's 34th State Representative District. Summer Lee's campaign for State Representative ignited a massive grassroots movement, powering Summer to a stunning 30-point margin of victory over a 20-year entrenched incumbent. She grew up in the North Braddock and Rankin neighborhoods and currently resides in Swissvale. She is a proud graduate of Woodland Hills High School, Pennsylvania State University and Howard University School of Law, where she specialized in civil rights and constitutional law. Summer has been a leader in the recent struggles to bring justice to the Woodland Hills School District, and worked as an organizer with the Fight for $15 and led the way in building a pipeline of progressive political power across Allegheny County.