The Role of the Movement in Native Political Power Building from an Indigenous Perspective
Session Type(s): Panel
Starts: Thursday, Jul. 11 10:15 AM (Eastern)
Ends: Thursday, Jul. 11 11:15 AM (Eastern)
Across the country, Native communities are building political power, and taking their rightful place as elected officials against all odds. The first two Indigenous women were elected to Congress. In San Juan County, UT, several Native organizations and allies built a coordinated strategy around engaging first-time voters on the Navajo reservation to make history in electing the first ever Navajo-led County commission to help protect the cultural sites and natural beauty of the area. In North Dakota, Indigenous leaders fought and won against voter suppression, and are continuing to make progress towards representative leadership. Join us to learn more about these efforts, how to center Indigenous voices, and how to be a true ally in Native political power building in the 21st century.
Moderator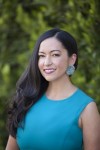 Chrissie Castro, Diné and Chicana, is the Chairperson of the Los Angeles City and County Native American Indian Commission, and co-led the change to replace Columbus Day with Indigenous Peoples Day in the City and County of Los Angeles. She co-founded two organizations to build power within Native communities – in her local state, the California Native Vote Project and nationally, Advance Native Political Leadership. She is a leadership and coach trainer for multiracial grassroots leaders in service to healing, justice and liberation.
Panelists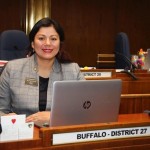 Ruth Buffalo is originally from Mandaree, North Dakota which is located along the southwestern edge of the Ft. Berthold Indian Reservation. She is a citizen of the Mandan Hidatsa Arikara Nation and a descendant of the Chiricahua Apache. She currently resides in south Fargo with her husband and four children. She recently was elected into office in 2018 to serve North Dakota as a House Representative for District 27 in south Fargo.
Ruth is a public health professional and educator. She is a volunteer to several local, statewide and national boards which focus on improving the quality of life for all people. She has served on advisory councils focused on women's health, women's leadership development and local food systems. Ruth served one term as the North Dakota Democratic-Nonpartisan League Secretary (2017), she was the first Native American elected into a leadership role within the state party. She actively recruited four Native Americans to run for leadership roles within the state party in 2019, two were successfully elected.
She is also the former chair of the North Dakota Human Rights Coalition and recipient of National Center for American Indian Enterprise Development's 40 under 40 leadership award. The Fargo Forum newspaper named her among local leaders to watch in 2019.
She is an independent consultant with a focus on research and advocacy, community capacity-building and continued reconciliation efforts through education. Ruth hopes her efforts will contribute to policy changes in all levels of government for future generations. She is a community organizer for all people and works diligently to ensure all people are informed of the electoral and legislative process. Her passion is safe and healthy communities.
Ruth earned a Bachelor of Science in Criminal Justice and Master degrees in Management, Business Administration and Public Health.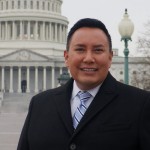 Mellor Willie, Navajo, is the Co-Founder and Director of 7Gen Leaders, a Native Political Action Committee (PAC) founded in February 2018 that conducts Independent Expenditures to help elect strong and viable candidates to key positions and offices across the country. In its inaugural year, 7Gen Leaders focused on electing the first two Native American women to the United States Congress—Deb Haaland (D-NM-1) and Sharice Davids (D-KS-3). Mellor has over 20 years of experience in public relations, government and public affairs and political consulting at the tribal, local, state and national level. From 2009 to 2013, Willie served as Executive Director of the National American Indian Housing Council and has served on various advisory boards and committees for Native internship programs in Washington, DC. Mellor is a graduate of George Washington University's Graduate School of Political Management (2009) and as an adjunct faculty he has taught the course, "Native Politics and Grassroots Organizing" from 2014-2017.