Taboo Topics: How to Message Contentious Issues to Latinx Voters
Session Type(s): Training
Training Tag(s): Communications
Starts: Saturday, Jul. 13 9:00 AM
Ends: Saturday, Jul. 13 10:00 AM
Room: 120B
With Latinx voters becoming the largest non-white ethnic voting bloc in 2020, democratic presidential candidates will have to address some of the most pressing issues affecting the Latinx community in the United States. From the status of Puerto Rico to the crisis in Venezuela, reproductive health care, or the tension of communicating to Latinx voters in English, Spanish or Spanglish—these are some of the taboo topics that candidates will be forced to answer. Latinx voters are paying close attention to how candidates are reacting to the issues they care about. So having culturally competent messengers and messages in the early stages of the presidential campaigns is no longer a second thought, it is necessary for any winning campaign.
Ideal participants work in communications or messaging strategy, but this session will be helpful for all organizers trying to engage the Latinx community.
Moderators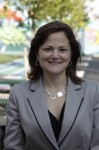 Melissa Mark-Viverito currently serves as a New York City Council Member, representing District 8, which includes El Barrio/East Harlem, Manhattan Valley and Mott Haven. She was born and raised in San Juan, Puerto Rico and attended Columbia College at Columbia University in New York City and earned her Master of Public Administration from Baruch College, City University of New York in 1995. In 2005, Melissa became the first Puerto Rican woman and Latina elected to serve as Council Member for the 8th Council District. In 2009, she was elected to her second term in the City Council. She currently serves as Chair of the City Council's Parks & Recreation Committee and Co-Chair of the Council's Progressive Caucus. In her current capacity as Council Member, Melissa has worked to advance anagenda focused on issues affecting working class and low-income families, youth, seniors and immigrant communities.