Muslim, Arab, South Asian (MASA) Caucus
Session Type(s): Caucus
Starts: Saturday, Jul. 13 1:00 PM (Eastern)
Ends: Saturday, Jul. 13 2:00 PM (Eastern)
Room: 125
This open caucus is intended to provide space where members of Muslim, Arab, South Asian, Sikh and Middle Eastern (MASA) communities and allies can discuss how the progressive movement can support the fight against bigotry and attacks on the civil and human rights of Muslims and those perceived to be Muslim. Come connect with like-minded and affiliated folks. We'll be engaging in conversation around upcoming issues for the MASA community and how we can work together to improve our movement and our country.
Moderators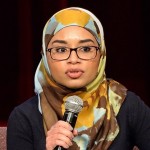 Firdaus Arastu is a communications strategist working to shift the narrative of Muslim communities in America by increasing the visibility of Muslims in the arts and storytelling mediums. She researched and co-authored the chapter, "American Muslim Women and Faith-Inspired Activism," in Feminism and Religion: How Faiths View Women and Their Rights (2016). She provided research assistance for "American Muslims, American Islam, and the American Constitutional Heritage," published in Religious Freedom in America (2015). She is an editor at altMuslimah, and has been published in Al Jazeera English, Teen Vogue, The Huffington Post, Patheos, and The Tribune India. Firdaus holds a B.S. in Anthropology and Psychology from Syracuse University.
Other sessions: When Preparation Meets Opportunity: A Simulation on Rapid Response Communications
Ghazala Salam is the founder and president of the Muslim Caucus, a national non-profit organization focused on developing a national organizing structure for American Muslim Voters. Ghazala has led the organization since its inception in 2017 with the support of a diverse volunteer-led board. The Muslim Caucus has affiliates across 15 states in the nation. She and her team are proud to launch a two-day inaugural conference and presidential forum on July 23-24 in D.C. www.muslimcaucuscollective.org. Ghazala is also the Executive Director for American Muslim Health Professionals, a national organization working to build bridges to advance health equity and social justice.