Fix the Damn Healthcare: Sorting out ACA 2.0, MFA, Med4Am and More!
Session Type(s): Panel
Starts: Friday, Jul. 12 4:30 PM (Eastern)
Ends: Friday, Jul. 12 5:30 PM (Eastern)
The healthcare landscape is confusing and exciting in 2019. Reining in Big Pharma, strengthening the ACA, adding public options, "Medicare for America" or "Medicare for All"… the alphabet soup of plans can be confusing. Can improvements be implemented before 2021 at the federal level or is it all up to the states? And what about the latest lawsuit looming over everything? We'll go beyond the slogans and into the details: How are the proposals similar and different, and what do patients, caregivers and other invested parties think.
Moderator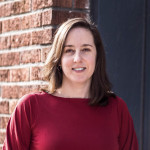 Laura Packard is a digital/new media and communications strategist, health care advocate, and small business owner in Denver. She is a stage 4 cancer survivor, founder of Health Care Voices, a non-profit organizing adults with serious medical conditions, executive director of Health Care Voter, and serves as an advisor to Unrig Our Economy. Laura also serves on the board of Blue Digital Exchange, a trade association of progressive digital consultants and staffers.
Laura has been blocked by President Trump on Twitter, thrown out of her (former) U.S. Senator's town hall for asking him about his health care record, and reached millions of people online across the country with her story while fighting to protect our health care.
Panelists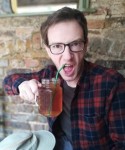 Matthew Cortland is a disabled, chronically ill lawyer and writer from Massachusetts. His legal practice focuses on helping patients navigate the health care system, and his activism is dedicated to advancing the recognition of health care as a human right.
Matthew writes mostly about law, medicine, bioethics, chronic illness, disability, and sex (bylines include New Statesman, Rewire, The Royal Society of Chemistry, The Stranger, and Talk Poverty). He's been quoted as a legal and healthcare expert in publications including Think Progress, Kaiser Health News, Bloomberg Law, USA Today, Pacific Standard, and Teen Vogue. And Matthew's healthcare advocacy story-telling has been featured in Vox and by MoveOn.org.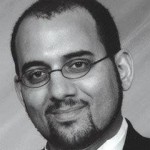 In 2013, when neither the government nor the mainstream media provided consistent, reliable reporting of enrollment data for the Affordable Care Act, Charles Gaba launched ACASignups.net as a hobby, using crowdsourcing to track enrollments in real time.
His work soon caught the attention of major media outlets, and has been cited and used as a resource ever since by media outlets spanning the ideological spectrum including the Washington Post, Forbes, Bloomberg News, Vox Media, MSNBC, the New Republic, USA Today, the CATO Institute, National Review Online and The New York Times among others.
Since launching this project, he has expanded his analysis to include the ACA's Medicaid Expansion and Basic Health Plan program; the off-exchange ACA market; average premium rate changes and the future of healthcare reform.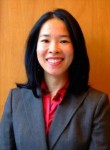 Elena Hung is the Co-Founder and Executive Director of Little Lobbyists, a family-led organization that advocates for children with complex medical needs and disabilities. Her daughter Xiomara was born with a number of medical issues, and is thriving today as a result of quality care (and a bit of luck). Elena, Xiomara, and families like them have been visiting Capitol Hill and offices across the country to speak with lawmakers and their staffers about what is possible with access to quality, affordable health care, and what is at stake without it.
Her opinion pieces have been published in the New York Times, Baltimore Sun, Vox, HuffPost, and other publications. She was honored with the "Speak Up For Better Health" award by the Center for Consumer Engagement in Health Innovation at Community Catalyst and recognized as "Ally of the Year" by the Autistic Self Advocacy Network (2018).
Elena is also one of the national co-chairs of Health Care Voter, a campaign holding elected officials accountable for their votes on health care.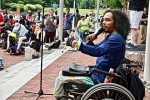 Originally from Puerto Rico, Germán has been an active community organizer with Philadelphia ADAPT, is a leader in direct action, and is the first person with a significant spinal cord injury to deploy to a disaster-impacted area. With Portlight and the Partnership for Inclusive Disaster Strategies, he deployed to Puerto Rico shortly after Hurricane Maria. Germán has a key voice in the work of the Partnership shaping language and content for two legislative projects- the Real Emergency Access for Aging and Disability Inclusion in Disasters Act (REAADI) and the Disaster Relief Medicaid Act (DRM). Most recently, Germán was elected as the Regional Focal Point for the Americas for the United Nations Disaster Risk Reduction Stakeholder Group of Persons With Disabilities.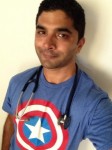 Dr. Sriram is "Dr. America," health justice correspondent for We Act Radio. His articles about health policy, racial inequity, and social determinants of health have been published by The Huffington Post, Rewire News, The Hill, and Common Dreams. Dr. Sriram completed his medical degree and his pediatrics residency at UCLA and earned his Masters in Public Health on minority health policy at the Harvard School of Public Health. He currently practices general pediatrics in southeast Washington, DC. Dr. Sriram is the Senior Advisor on Medicaid for Social Security Works, a grassroots advocacy organization dedicated to protecting and expanding Social Security, Medicare, and Medicaid.