Emerging Federal Consensus: How and When We Will Legalize Marijuana
Session Type(s): Panel
Starts: Saturday, Jul. 13 9:00 AM (Eastern)
Ends: Saturday, Jul. 13 10:00 AM (Eastern)
Join us for a conversation on the emerging agreements and fault lines amongs the various proposals to end federal marijuana prohibition. With so many aspects of policy needing to be addressed, spanning criminal justice to immigration to industry diversity and inclusion issues, these panelists are the ones who are "in the weeds" working with lawmakers and their offices on Capitol Hill and around the states every day.
Moderator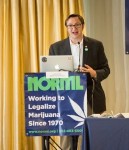 Justin Strekal is the Political Director for NORML, where he serves as an advocate to end the federal prohibition of marijuana and to reform our nation's laws to no longer treat marijuana consumers as second class citizens.
Before working on drug policy, Justin worked on tax, wage, and campaign finance policy and for electoral campaigns throughout the country at every level of government.
Panelists
Queen Adesuyi is a policy coordinator at the Drug Policy Alliance's Office of National Affairs in Washington, D.C., where she works to advance DPA's federal and local District of Columbia legislative agenda. Her areas of focus include marijuana legalization with a racial justice focus, collateral consequences, housing, and overdose prevention.
Adesuyi, who hails from the Morris Heights section of the Bronx, is an alumna from Georgetown University, where she majored in American Studies and minored in Women's and Gender Studies. Her undergraduate research examined competing models of racial and social justice in the District of Columbia's pro- and anti-marijuana legalization campaigns, one of the nation's first legalization campaigns where racial justice was intimately a part of the messaging on both sides.
Prior to joining DPA, Adesuyi worked with the Georgetown University Prisons and Justice Initiative, the National Reentry Network for Returning Citizens, Office of Congressman Jose E. Serrano (D-NY), Mic.com and the New York Times.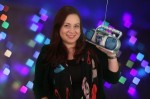 Vanessa Maria Graber is a Puerto Rican organizer, media personality, and educator from Philadelphia. She is the Station Manager and co-founder of community radio station, WPPM 106.5 FM at PhillyCAM, and is an adjunct professor at Temple University's Klein College in the Media Studies and Production Department. She hosts several radio/TV programs at PhillyCAM including the People Power Lunch Hour, a program featuring organizers with local social movements, and Fully Baked Radio, a program about cannabis culture and drug policy.
Vanessa has over 20 years experience in media and grassroots campaigns. She has worked on media justice issues such as the largest US expansion of community radio, reforming Net Neutrality rules, and advocating for public access TV. In addition to media policy, Vanessa has been organizing locally for drug policy reform, including working to pass the cannabis decriminalization law in Philadelphia, advocating for Senate Bill 7 for Medical Cannabis in Pennsylvania, organizing to expand the Medical Cannabis program in NJ, and coordinating rallies, direct actions, and events in support of cannabis legalization in Philly & NJ. She currently works with a coalition of POC in Philadelphia to legalize cannabis in PA and make medical cannabis more accessible to the Latinxs community.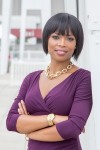 Shanita Penny, MBA is a cannabis advocate, business professional and entrepreneur. Her boutique cannabis consulting firm provides Management and Strategy Consulting to startups, small businesses and multistate operators. Shanita's entrepreneurial pursuits in recent years include partnerships in two state-licensed cannabis businesses, both on-track to launch in 2019. Shanita proudly serves as President of the Board of Directors for the Minority Cannabis Business Association (MCBA) and is also a member of the New Jersey Cannabis Industry Association's (NJCIA) Board of Trustees. She lives to "end the stigma associated with cannabis" through her advocacy, businesses and responsible consumption.
Shaleen Title is an Indian-American drug policy activist and attorney who currently serves as one of five commissioners on the Massachusetts Cannabis Control Commission, the agency tasked with regulating legal and medical marijuana in the commonwealth. Described as "the people's weed watchdog" in Boston Magazine's 2019 Power List, she has won several awards for her advocacy work and her efforts to make the cannabis industry more fair and inclusive. She holds a business degree, law degree, and graduate degree in accounting from the University of Illinois.