Birddogging 101
Session Type(s): Training
Training Tag(s): Grassroots Organizing/Campaigns
Starts: Thursday, Jul. 11 3:45 PM
Ends: Thursday, Jul. 11 4:45 PM
Room: 121A
The escalation of activism demands for a middle step between requests and grievances, a form of lobbying that isn't done behind closed doors and truly holds public officials accountable: The answer is a tactic called "birddogging."Birddogging is when you ask a public official or aspiring candidate to do something you care about, in person, and in public. Birddoggers apply pressure directly to a target who has the power to give us what we want, and it works! Al Gore was birddogged before issuing support for cheaper AIDS drugs in Africa. McCain was birddogged before he cast his vote that saved the ACA. In this training, we'll teach you how to step up and make your legislators work for you.
If there's change you'd like to see and you know who has the power to make that change happen, this training is for you.
Moderators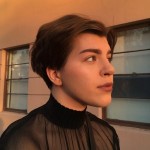 Kiki Hackett is the Western Organizer for Housing Works, the nation's largest community-based AIDS and HIV service organization. Though Kiki travels around the southwest and west coast teaching birddogging tactics, they are based on occupied Akimel O'odham & Yavapai land (sometimes known as "Phoenix, Arizona"), where they live with their dog, Mischka, and two bunnies, Cori and Stella.
They've worked as a coalition co-founder, campaign regional director, and within both academic and public library systems. Their energy is now primarily focused on community-led calls for healthcare system reform and gender equality.