Are You an Awesome Leader and Manager? Yeah, You Are!
Session Type(s): Training
Training Tag(s): Operations
Starts: Friday, Jul. 12 1:30 PM (Eastern)
Ends: Friday, Jul. 12 2:30 PM (Eastern)
"I know what is expected of me." "Someone at work encourages my development." "My manager seems to care about me." If your team were to answer these questions today, what might they say about your leadership and team culture? At a time when organizations and campaigns are moving at a breakneck pace, leaders and managers need to be even more clear in setting expectations, motivating and growing staff, and building a sustainable team culture that can go big and win. This session will provide from essential skills to cultivate leadership for people from ED's to Intern Directors to step up and meet the challenges of today and tomorrow.
We believe that everyone is a leader, not just line managers and the C-Suite. This training will support people at all levels to deepen awareness of their own leadership capacity and to strengthen their skills to increase their impact with others at work and in daily life.
Moderator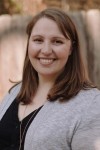 Lola Elfman Greene is a founder and CEO of DevelopWell, as well as a Leadership Coach and Master Trainer with a passion for creative learning and social change.
DevelopWell is a womxn-owned and operated coaching and consulting practice that develops leaders and teams in values-driven organizations with a holistic and innovative approach. Our team brings years of experience from the technology, organizing, and People & Culture fields to ensure our clients are employing the best structures and practices that will allow their teams to achieve their full potential.
Lola's work focuses on developing strong leaders and teams through coaching, team building, and talent development. She has set the standard for engaging and productive team retreats and meaningful management practices with groups like ActBlue, Sunrise Movement, UltraViolet and others.
Lola believes that everyone is a leader, not just line managers or the C-Suite, and that everyone has the potential to positively impact their organization, their families, and the world.