The Millennials are on Instagram: Why Social Media is the Foundation of Organizing At-Scale
Session Type(s): Training
Training Tag(s): Basic Online Organizing
Starts: Thursday, Aug. 2 3:30 PM (Eastern)
Ends: Thursday, Aug. 2 4:45 PM (Eastern)
#BlackLivesMatter. #NeverAgain. #55Strong. What do these all have in common? An expert use of social media. Movements throughout history have always mastered new technology to advance their cause. In the civil rights movement, this meant knowing how to use television to broadcast the movement; today it means using social media. Join us to learn how social media has been instrumental in movement building from Occupy Wall Street to the present; successful case studies of organizing at-scale by harnessing social media; and hard skills to help organizers start integrating social media in their work.
Trainers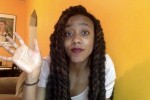 Nicole Carty is a Director with PowerLabs where she focuses on online to offline mobilization and creating structures and processes to support volunteer-led teams.
Prior to PowerLabs, Nicole was a Campaign Manager at SumOfUs where she ran campaigns to bring equitable policies to the tech industry, served as a communications specialist, and implemented internal anti-oppressive organizational structures.
Previously Nicole was Programming Director at The Other 98% where she helped grow the organization's social media reach into the millions.
Nicole is a movement builder who was deeply involved in Occupy Wall Street and has played critical roles in the Movement for Black Lives.
Nicole is also a Lead Trainer and Core team member at Momentum.
Other sessions: Getting Started with Facebook Live: How to Amplify Your Action and Bring More People into the Movement