Getting Started with Facebook Live: How to Amplify Your Action and Bring More People into the Movement
Session Type(s): Training
Training Tag(s): Basic Online Organizing
Starts: Thursday, Aug. 2 11:30 AM (Eastern)
Ends: Thursday, Aug. 2 12:45 PM (Eastern)
Join us to learn how to use Facebook Live to reach hundreds of thousands of people with your action or protest and recruit them to join in your efforts. In this interactive workshop, we'll break down the components to a successful Facebook Live broadcast: how to script your broadcast, how to build an audience, how to interact with viewers and how to move people from Facebook spectators to movement participants. You'll also leave with a list of inexpensive gear to improve the quality of your broadcast.
Trainers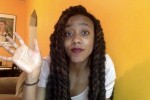 Nicole Carty is a Director with PowerLabs where she focuses on online to offline mobilization and creating structures and processes to support volunteer-led teams.
Prior to PowerLabs, Nicole was a Campaign Manager at SumOfUs where she ran campaigns to bring equitable policies to the tech industry, served as a communications specialist, and implemented internal anti-oppressive organizational structures.
Previously Nicole was Programming Director at The Other 98% where she helped grow the organization's social media reach into the millions.
Nicole is a movement builder who was deeply involved in Occupy Wall Street and has played critical roles in the Movement for Black Lives.
Nicole is also a Lead Trainer and Core team member at Momentum.
Other sessions: The Millennials are on Instagram: Why Social Media is the Foundation of Organizing At-Scale