Workers Standing Up to Federal Contractors: Town Hall with US Rep. Tim Ryan (Sponsored Panel)
Session Type(s): Panel
Starts: Saturday, Aug. 4 10:00 AM (Eastern)
Ends: Saturday, Aug. 4 11:15 AM (Eastern)
Join workers on the front lines of organizing and U.S. Rep. Tim Ryan (D-OH) for a Town Hall conversation about fighting poverty pay, wage theft, and union-busting by federal contractors. America's government is betraying it's workers. Uncle Sam is America's leading low-wage job creator, funding more poverty jobs through federal contracts than the top 20 corporations combined. To add insult to injury, federal contractors steal more than $2.5 Billion dollars from the pockets of low-wage workers every year. The good news is that workers are fighting back to transform this rigged system. Join us to hear from workers on the front-lines of this struggle. The event will also feature a screening of "We the Forgotten," a mini-documentary series by Good Jobs Nation. This panel is sponsored by CWA.
Rep. Tim Ryan (D-OH)
General Dynamics Contract Call Center Workers
National Guard Contract Workers
Moderator: Joseph Geevarghese, Good Jobs Nation
Moderator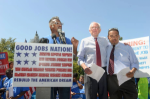 Joseph Geevarghese is the Executive Director of Good Jobs Nation.
The mission of Good Jobs Nation is to hold the President and all politicians – whether Democrat or Republican – accountable to America's workers.
By mobilizing workers both on the streets and online, we are demanding that elected officials invest our taxpayer dollars in corporations that create good union jobs in the USA – not firms that keep workers in poverty and ship our jobs overseas.
Since 2013, Good Jobs Nation has won 3 historic executive orders to raise wages, crack-down on labor law abuses, and extend paid leave at companies that receive federal funding. Good Jobs Nation has also been at the forefront of the fight to raise the minimum wage to $15 an hour and to safeguard the freedom of workers to organize alongside US Sen. Bernie Sanders and Keith Ellison.
Panelist