Starts: Thursday, Aug. 2 2:00 PM (Eastern)
Ends: Thursday, Aug. 2 3:00 PM (Eastern)
Room: 207
This is a New Orleans bat signal for New York Netroots. Let's converge to build with, learn from and to celebrate one another. You, the proud slayers of pipelines, defenders of teachers. You who make fists for $15 and take airports for immigrants. You who tear down with the force of Niagara, rudely unseat smokey room electeds, and make with your hands the grip of a farmer tearing grapes from vines and a writer typing with snark as she unionizes by night! You who rise up to the heights of The New Colossus, our sister, once bronze now green with monied influence waiting to march with us as a state called Empire is pushed into the hands of the people.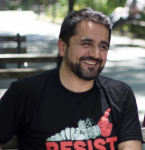 Rafael Shimunov (he/his) is a creative and political activist in Queens, NYC. He's directed creative and digital at Working Families Party, which organized its 12 state organizations to primary corporate Democrats with progressives in hundreds of local elections. Deeply involved in immigration justice, his live, personal narrative growing up as a refugee from Uzbekistan during the JFK Airport protests of the Muslim Ban reached over 16 million viewers, landing him on CNN to help undo the media's harmful analysis on the national airport movement that grew out of the event.
At Center For Constitutional Rights, Rafael led digital and creative on cases such as Stop & Frisk (Floyd v. City of New York), on behalf of Sexual Minorities in Uganda (SMUG v. Lively), with survivors of sexual violence taking on the Vatican at International Criminal Court and the UN, and towards challenging Guantanamo Bay and combating drone warfare.
As Associate Director for Communications at PolicyLink, a national think tank, Rafael helped lead digital campaigns and policymaking communities that pushed legislation to adopt economic and social equity research impacting low income communities and communities of color.
He has contributed to IfNotNow's early growth in digital and creative, launched #JewsForLinda Sarsour, was part of a small team that successfully destabilized GOP support of white nationalist Congressman Steve King, and was one of many in the successful #NoAmazonNYC coalition.
As a board member, Rafael has helped take nearly 30 years of Jews for Racial and Economic Justice (JFREJ)'s organizing into electoral power by co-founding The Jewish Vote, a sister org that campaigns for progressive candidates in NY by mobilizing Jewish voters.
Prior to joining the fight, he helped win a Cannes award for advertising with the very same corporations he works to fight against today.
Other sessions: Progressives for Palestinian Rights