Session Type(s): Training
Training Tag(s): Advanced Online Organizing
Starts: Saturday, Aug. 4 2:00 PM (Central)
Ends: Saturday, Aug. 4 3:15 PM (Central)
Room: R01
We'll walk through how to develop principles for your digital communications that align with the same strong values you hold when building and maintaining offline relationships. We'll discuss the downsides of blasting out one-way emails or texts to big lists and the upsides to thinking through creative ways to have personal conversations with a bunch of supporters at the same time. We'll talk about using data and digital tools in a way that ensures that you're having the right conversation with the right person at the right time while expanding your reach and relationships. And, lastly, we'll run through how to build a team that reflects the digital principles you're developed.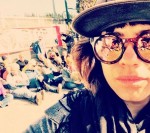 I just released a 3-part blog series — Relationships matter if we want to win: How-to cultivate more human connection online to build stronger movements. It talks about the importance of developing online principles for your team; having more deeper, personalized conversations with supporters; and, structuring your organization or group to really do supporter-focused online engagement work. Find it at http://bit.ly/vanessa-blogs.
I currently work as the senior digital project coordinator for the climate team at Greenpeace USA, am a Power Shift board member, and sit on the Rising Tide North America organizing team. I also consult for grassroots groups and non-profits around online, supporter engagement, and direct action strategy.
I continuously work to take the good and bad of what I've learned over the years and experiment with new ways of story-telling and building power. When we stop asking questions and pushing to be better at what we do, we lose important battles for a better world!
Outside of paid work, I organize with frontline groups against police brutality, gentrification, and environmental justice.
I'm originally from Mississauga of the New Credit Territory as known as Ontario, Canada, but now live in Oakland, California on Ohlone Territory.