F**k Petitions: How to Do Principled and Personalized Digital Work in an Increasingly Crowded Online Space
Session Type(s): Training
Training Tag(s): Advanced Online Organizing
Starts: Saturday, Aug. 4 3:00 PM (Eastern)
Ends: Saturday, Aug. 4 4:15 PM (Eastern)
We'll walk through how to develop principles for your digital communications that align with the same strong values you hold when building and maintaining offline relationships. We'll discuss the downsides of blasting out one-way emails or texts to big lists and the upsides to thinking through creative ways to have personal conversations with a bunch of supporters at the same time. We'll talk about using data and digital tools in a way that ensures that you're having the right conversation with the right person at the right time while expanding your reach and relationships. And, lastly, we'll run through how to build a team that reflects the digital principles you're developed.
Trainers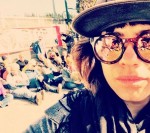 Vanessa currently works at Caring Across Generations (as their Digital Director) and SEIU 1021 (as their first ever Lead Digital Organizer) where she focuses on embedding digital strategy into their robust distributed organizing programs. She has been a digital strategist, trainer, and consultant for the past decade across movements. Vanessa believes in order to be more equitable, effective, and efficient in the digital space, it's important for organizers and communicators to come together to skillshare, discuss learnings, brainstorm, and network. When we stop asking each other questions and pushing to be better at what we do, we lose important battles for a better world!
Vanessa is originally from Mississauga of the New Credit Territory also known as Ontario, Canada — but now lives in Detroit on Waawiyatanong Territory.