Dare to Compete! How to Run for Office for Women Leaders
Session Type(s): Training
Training Tag(s): Grassroots Organizing/Campaigns
Starts: Friday, Aug. 3 10:00 AM (Eastern)
Ends: Friday, Aug. 3 11:15 AM (Eastern)
Are you a woman interested in running for office, but don't know where to start? Let Emerge America point you in the right direction during our Dare to Compete! training. Learn the basics of starting your run for elected office or support women who are running. Women are stepping up to run in record numbers, and we know America desperately needs the unique perspectives and skills women can bring to the table. Emerge America and the Emerge affiliates share one mission: to increase the number of Democratic women leaders from diverse backgrounds in public office through recruitment, training, and providing a powerful network. We have trained over 3,000 women to run for elected office.
Trainer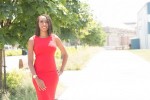 A'shanti F. Gholar serves as Emerge America's political director, focusing on strengthening national partnerships and working closely with state affiliates to strategically recruit for key seats, as well as directing the organization's overall political strategy. For 15 years, A'shanti has been a grassroots organizer and activist for women, communities of color, and progressive
causes. Prior to coming to Emerge America, A'shanti served as the National Deputy Director of Community Engagement and Director of African American Engagement for the Democratic National Committee.
A native Nevadan, A'shanti holds a Bachelor's Degree in Political Science and a Master's of Science Degree in Industrial and Organizational Psychology with an emphasis on leadership development and women in leadership. A'shanti was named a political influencer by CQ Roll Call Magazine, designated a top woman of color in policy by Walker's Legacy, and called a
"Changemaker" by African American Women in Business Careers. In addition to her role at Emerge America, serves as an Advisory Board Member for First Ask, an Expert Advisor for Forward Majority Action, as a Senior Advisor for the New Leaders Council Millennial Policy Initiative on Gender and Equity, and a Sisters on the Planet Ambassador for OxFam America. She is also the founder of The Brown Girls Guide to Politics.
Other sessions: This Is What Democracy Should Look Like: 2018 & Beyond