10 Years After the Crisis: The Fight to Take on Wall Street
Session Type(s): Panel
Starts: Friday, Aug. 3 5:15 PM (Eastern)
Ends: Friday, Aug. 3 6:30 PM (Eastern)
This panel will look back on the decade since the financial crisis, reflecting on how Main Street is still suffering while Wall Street enjoys record profits. Panelists from the Take On Wall Street (TOWS) coalition will discuss the protections put in place following the crisis, and the work we're doing to maintain those protections against a daily assault by Donald Trump and his team of Wall Street cronies. As in so many other issue areas, it is not enough to resist Trump. TOWS exists to present a vision for how Wall Street's power can be tamed, financial stability can be restored, and the spiraling inequality we have seen for decades can finally be addressed, including the disparate way the last crisis affected communities of color.
Moderator
Panelists
Alexis Goldstein is the Senior Policy Analyst at Americans for Financial Reform, a nonpartisan coalition of over 200 organizations working for a safe and ethical financial system. Prior to her advocacy work, Alexis spent seven years working on Wall Street.
In her spare time, she co-hosts the podcast Humorless Queers, which covers Wall Street, Mass Surveillance, and LGBTQ issues.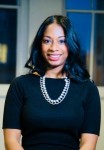 As a member of the executive team, Ashley Harrington serves as a liaison between the CRL president, executive leadership, and team leaders and policy staff that manage day-to-day advocacy and operations at CRL. Based in the DC office, Harrington works with senior managers to mobilize organizational resources around new CRL initiatives. Harrington also takes a lead role in CRLs federal policy and advocacy efforts related to student loans. She recently served as a primary negotiator for the Department of Education's Borrower Defense to Repayment Rulemaking Committee. Harrington works closely with various organizations on student loan issues and works hard to ensure that all conversations include the disparate impact of college in-affordability and lack of access to higher education resources and services on people of color and women.
Prior to joining CRL, Harrington served as Special Assistant to the Chief Diversity Officer in the Office of Governor Andrew M. Cuomo. Harrington received her JD from New York University School of Law and her BA in Public Policy Analysis from UNC-Chapel Hill.