Rebellions are Built on Hope: How Organizations are Using Digital Activism and Grassroots Power to Lead the Resistance
Session Type(s): Panel
Starts: Thursday, Aug. 10 9:00 AM (Eastern)
Ends: Thursday, Aug. 10 10:15 AM (Eastern)
In the wake of Trump's election, Americans took to the streets to make it clear that they would stand for our shared American values of inclusion, diversity, and tolerance, and would not simply accept his extreme agenda. Major grassroots organizations have worked to organize this energy to form an intersectional and united resistance to Trump—one that has marched in the streets, called members of Congress, stood up for our values, and stopped destructive legislation in its path. This panel will explore how organizations—including NARAL Pro-Choice America, ACLU, Women's March, Color of Change and MoveOn—are working together to resist what's next in building the resistance.
Moderator
Becka Wall is the Digital Media Manager for NARAL Pro-Choice America. She is a blogger, writer and digital communications expert; with experience working at progressive organizations including the National Women's Law Center and Media Matters for America. Becka's favorite president is Theodore Roosevelt and in her spare time she likes to cook, read, run, and marathon Doctor Who.
Panelists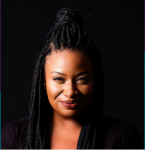 Arisha Michelle Hatch is the Managing Director of Campaigns at Color Of Change, leading campaigns on civic engagement, voting rights, criminal justice, and corporate and media accountability.
Arisha is a leader and innovator in the racial justice movement, organizing Black People's Brunches which brought together more than 12,500 people in 2018 and helping to set the organization's agenda in 2019 and beyond. Since joining Color Of Change in 2012, she has ushered in some groundbreaking victories for Black communities: getting payment processors like Mastercard and PayPal to ban use of their platforms by white supremacists and persuading Saturday Night Live to add two Black women to its cast and writer's room mid-season.
Before coming to Color Of Change, Arisha worked as a lawyer and organizer for Barack Obama's presidential campaign in 2008. She later served as National Organizing Director of the Courage Campaign, which lays the groundwork for progressive change in California.
Arisha was born in Texas and raised in Southern California. She has degrees in economics, creative writing and feminist studies from Stanford University, and she received her doctorate in law from Santa Clara University in California.
Other sessions: Time to MOBILE-ize! Mobile Tools for Digital and On-the-Ground Action