Prosecutor Accountability: Building Local Power
Session Type(s): Panel
Starts: Friday, Aug. 11 9:00 AM (Eastern)
Ends: Friday, Aug. 11 10:15 AM (Eastern)
Prosecutors make decisions everyday that impact the lives of Black and Brown people and their communities. Prosecutors decide whether to charge a case, whether to make a plea deal and whether to accept bail; and they make decisions on sentencing. Previously, these were elected positions that flew under the radar, with 85 percent of prosecutors running unopposed. However in 2016, multiracial coalitions led by Black and Brown people came together to bring in reform candidates from St. Louis to Houston to Orlando. This panel focuses on the work after the victories—building political power, holding these newly elected prosecutors accountable and organizing resistance against the inevitable pushback from those in favor of the status quo.
Moderator
Panelists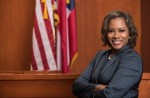 As District Attorney for the Stone Mountain Judicial Circuit, Sherry Boston oversees the prosecution of felony offenses filed in the Superior Court of DeKalb County, including murder, drug and sex offenses, child and elder abuse, theft, and corruption. Prior to this role, District Attorney Boston served as DeKalb County Solicitor-General, the elected prosecutor overseeing misdemeanor crimes.
In addition to her elected positions, District Attorney Boston has also received several notable appointments. She was the first woman appointed as Municipal Court Judge for the City of Dunwoody and also served as Associate Magistrate Judge for DeKalb County. In addition to her judicial service, Ms. Boston has also worked in private practice handling thousands of misdemeanor and felony criminal cases in metro Atlanta.
Among other community and legal organizations in which she is involved, District Attorney Boston is an active member of the State Bar of Georgia. She currently chairs the Investigative Panel of the State Disciplinary Board, which has the power to investigate and discipline members of the State Bar for violations of Standards of Conduct. District Attorney Boston also serves on the Board of Governors, the State Bar's policy making arm.
In addition to her varied State Bar roles, District Attorney Boston is an instructor for Basic Litigation for the Prosecuting Attorneys' Council of Georgia and is regularly called upon to speak to local and national audiences on a number of issues related to law enforcement, trial preparation and cross-examination strategies.
Throughout her career, Ms. Boston has received numerous awards and recognition for her work and commitment to important causes such as domestic violence awareness and prevention/intervention initiatives.
District Attorney Boston is a graduate of Villanova University in Philadelphia,
Pennsylvania and Emory University School of Law.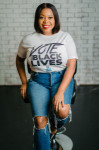 Jasmine Burney-Clark, is a civic engagement professional who has dedicated her personal and professional career to social and electoral justice across the state of Florida. She's the Founder of Equal Ground Education Fund and Action Fund, a Black-led community centered civic engagement organization prioritizing voter registration, education and turnout.
Most recently she was a Senior Advisor to the NAACP(National) and Executive Director of the Florida 501c3 Civic Engagement Table where she advanced work through three (3) statewide programs: Civic Engagement (voter registration and turnout, issue advocacy, and constituency engagement), Civic Access (voting rights and election administration) and Civic Representation (census, redistricting and "clean elections"). She worked to expand equal access to the ballot box on behalf of the New American Majority.
Notably, she has worked in Florida politics since 2010 for Alex Sink for Governor, Geraldine Thompson for Senate, Tom Steyer's NextGen America, Democracy at Stake – Florida's Supreme Court Judicial Retention initiative and Faith in Florida an affiliate of Faith in Action.
She's a member of Alpha Kappa Alpha Sorority Inc., and resides in Orlando, FL with her husband Dominic Clark.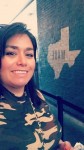 Mary Moreno was born and raised in the Valley, the middle child in a family of seven. She began her professional career as a police reporter, a chapter in her life that spanned seven years at five newspapers in Texas. As a reporter, she witnessed three executions and covered way too many house fires, car accidents and violent crimes.
In 2006, wary of covering human tragedies but not doing anything to help improve those neighborhoods plagued by crime, Mary moved to Washington, DC to put her press experience to work for immigration reform, marriage equality, improving Social Security, exposing the far right and other issues. In 2012, she returned to Texas to be closer to her family and fight for progressive change. She's been with the Texas Organizing Project for more than three years as communications director and acting immigration campaign director.