Local Food Policies: Converting a Food Desert to a Food Oasis
Session Type(s): Panel
Starts: Saturday, Aug. 12 3:00 PM (Eastern)
Ends: Saturday, Aug. 12 4:15 PM (Eastern)
Whether challenging the municipal urban agriculture ordinance in Boston to treat Black women farmers equally or converting a Georgia food desert to a food oasis, resistance is being fought to bring about a better food world. The "food rebels" gathered for this panel are each involved with engaging policy to effect change and generate new opportunities for those traditionally locked out of power. Join us to discuss the levers of change in food policy that are available to activists and why progressives must to be aware of the issue and impacts.
Moderator
Panelists
Kwabena Nkromo is Chair of the Georgia Food Policy Council (GFPC), representing various sectors of Georgia's food system tasked with examining state-level food and nutrition concerns. The GFPC works to educate citizens, convene stakeholders to prioritize food and nutrition activities and policies, and recommend environmental, policy or system-based solutions to policy makers and leaders in the public, private, and nonprofit sectors. Launched in June 2010, the Council consists of members from sectors including: Production; Consumption; Processing; Distribution; and, Waste, Recycling, and Sustainability. Kwabena's involvement in the local food movement spans across the country. He is also Founder and CEO of North American Food & Farm PBC Inc (NAF2), a social enterprise consultant network focusing on community food system planning and urban agriculture projects, with affiliate chapters in Atlanta & Athens GA, Birmingham AL, Boston MA, Houston TX, and Oakland CA. He is a national popular speaker on college campuses in the areas of his expertise and has been covered in multiple media outlets. Kwabena studied Plant & Soil Sciences at Tuskegee University and Agricultural Economics at Clemson, but is a self taught Food Systems Planner. He is the proud father of four growing children: Kwesi, Issata, Kweku, & Abenaa.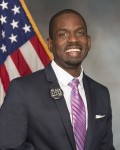 The first #BlackLivesMatter organizer elected to public office in the country, Councilman khalid is leading a generation of young activists from protests to politics. This #Fightfor15 organizer & Bernie Sanders Delegate is part of the inaugural City Council of South Fulton, GA, which is poised to become the largest progressive city in the South.
​khalid is a lifelong community activist. His name, lower-cased in the Yoruba African tradition, emphasizes the community over the individual and literally means "eternal quiet warrior."
An activist with prophetic vision to pursue progressive policies ' in the streets & the suites,' khalid enrolled and graduated from Fulton County Citizens University, while being an active member of Atlanta Neighborhood Planning Units (NPUs) V (Mechanichsville), where he organized a neighborhood watch program; and NPUs P (Camp Creek) & L (Vine City), where he participated in Economic Development negotiations around the new Mercedes-Benz arena. ​
khalid helped organize the Atlanta chapter of #BlackLivesMatter and served as a Field Organizer for the Georgia House Democratic Caucus. In 2016, he was elected as an At-Large Delegate to the Democratic National Convention.
A college-educated, community activist with a career in nonprofit management and experience in blue-collar jobs, Councilman khalid uses his unique blend of professionalism, compassion & working class struggle to ensure the new city of South Fulton, Georgia builds a table big enough for everyone to have a seat at it.