Session Type(s): Panel
Starts: Friday, Aug. 11 1:00 PM (Eastern)
Ends: Friday, Aug. 11 2:15 PM (Eastern)
Room: Grand Hall C
Racist, criminalizing state laws already made Georgia a tough state for immigrants. While the current regime poses an enormous challenge to immigrant rights—especially in red states like Georgia—a thriving resistance movement is bringing together communities of color. Come hear about the state's historically anti-immigrant policies, how an increased anti-immigrant crackdown from this presidency threatens immigrants, and how people on the ground are fighting back in tough terrain like Georgia and beyond.
Francesca Menes is the Florida State Coordinator for Local Progress, a network of hundreds of progressive local elected officials across the country dedicated to shared prosperity, equal justice under law, sustainable and livable cities, and good government that serves the public interest. She works closely with partner organizations throughout the Sunshine State to bring progressive policy solutions to our local elected officials.
Prior to joining CPD, Francesca served as the Director of Policy and Advocacy for the Florida Immigrant Coalition (FLIC) and Political Director for FLIC Votes, where she led the development and implementation of strategic legislative, policy and voter engagement campaigns locally and statewide. She co-coordinated the Florida Wage Theft Task Force, which led the passage of ordinances in several counties throughout the state. She coordinated a national network campaigning for Temporary Protected Status for Haitians. In 2014, she successfully led the statewide campaign "We Are Florida's Future" to pass in-state tuition for undocumented students and led the campaign to establish the Office of New Americans of Miami-Dade County, establishing a public-private partnership to promote naturalization.
For 8 years, Francesca served on the Miami-Dade County Commission for Women, where she is a past 2nd Vice-Chair. She also served on the board of the Miami-Dade Young Democrats (MDYD) for 8 years, including as past Vice-President of Communications and Administration.
Currently, Francesca serves as Secretary of MDC Community Action Agency (CAA) Executive Board, appointed by past-Commission Chairman Jean Monestime, as a board member of the Florida Center for Fiscal and Economic Policy, Co-Chair of Governmental/International Affairs of the Haitian American Professionals Coalition (HAPC), State Committeewoman of the Miami-Dade Democratic Party, and Treasurer of the Florida Democratic Party.
Francesca graduated from Florida International University, earning her BA in Political Science and Women's Studies and her Master's in Public Administration, with a certificate in Community Development. She was born and raised in Miami's Little Haiti community.
Francesca has received numerous honors and recognitions, including being recognized as one of the Angels on Adams Street by Influence Magazine, named one of the 20 under 40 Emerging Leaders in South Florida by The Miami Herald, named one of Miami's 40 Under 40 Young Black Leaders of Today & Tomorrow, named one of the 20 Under 40 Young Haitian-American Professionals by the Haitian-American Chamber of Commerce of Florida and City of Miami Gardens Unsung Hero Award.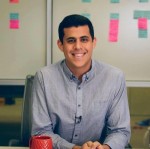 Adrian Reyna leads United We Dream's groundbreaking technology, digital engagement and communications strategies. Under his leadership, the network has created new technology to help low income community organizers provide service and empowerment opportunities to immigrant youth and families, and has catapulted the digital presence of United We Dream – tripling the size of UWD's online community. Born in Monterrey, Nuevo Leon, Mexico, Adrian came to the U.S. with his parents at the age of 12 and grew up undocumented in Humble, TX, outside of Houston. In college, Adrian "came out" as undocumented and queer and has dedicated his life to helping others live as their full and authentic selves. Adrian now directs one of United We Dream's largest staff teams where he brings his vision of a connected and vibrant network of formerly isolated and disempowered people into reality every day.
Other sessions: Holy Sh*t: Where Did All These People Come From?