Design 101: How to Visually Stand Out in a World of Noise
Session Type(s): Training
Training Tag(s): Basic Digital Organizing
Starts: Saturday, Aug. 12 3:00 PM
Ends: Saturday, Aug. 12 4:15 PM
Room: Embassy D
Have you ever wondered why we notice some things but not others? What stopped your scrolling through the timeline and take notice? Learn how artists throughout history have taken advantage of human behavior to grab your attention. Join this training to learn how to use science to get people not just interested, but ultimately activated! We'll cover how humans process visual information and how design can help motivate people to action. This training will cover the basics of photo-based design and help you improve the visuals you need to stand out in a world of noise.
This training is for both beginners/non-designers as well as intermediate designers/communication professionals who want to improve their design and communication skills and gain insight.
Trainer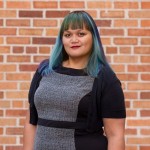 Candice is an award-winning designer and the Creative Director for 50+1 Strategies, a political and organizing consulting firm based in San Francisco.
She has worked as a computer animator, graphic designer, account manager for a start-up, and Deputy New Media Director and Regional Field Director for Organizing for America – California.
She has designed logos, websites, mailers, and collateral for more than 100 campaigns and organizations across the country, including Cory Booker for Senate 2013, Planned Parenthood Action Fund, and David Chiu for Assembly 2014.
Candice might be the only person who has reacted to seeing both President Obama and George Lucas in the exact same way.
Other sessions: The Good, the Bad and the Ugly: Digital Design in 2016 and Beyond