Guerilla Comms: How to Organize a (cost-effective) Plan that Gets Maximum Exposure for your Cause [Sponsored Panel]
Session Type(s): Panel
Starts: Thursday, Jul. 14 2:00 PM (Eastern)
Ends: Thursday, Jul. 14 3:15 PM (Eastern)
Momentum is key to 21st-century movements. Whether built over years or in days, campaign velocity necessitates effective planning and response to real-time situations on the ground. Bridging the gap between your offline and online advocacy efforts can be made easier with the right technology and strategy.
Budget constraints should no longer dictate the reach or size of your campaigns. Join us to hear from seasoned experts in grassroots coalition building with experience in winning local, state, and federal campaigns that have developed a blueprint for winning campaigns how you can leverage from the 4-year election cycle.
Moderator

Michael Moschella is the Vice President of Organizing, Politics & Advocacy at NationBuilder. He has been at the forefront of the leadership development and civic engagement community for over a decade.
Prior to joining the team at NationBuilder, Michael served as Chief Organizer and Political Director for the Truman National Security Project and the Center for National Policy.
In addition to his work at Truman, Michael is a founder and current Secretary of the Board of Directors of New Leaders Council, which runs 30 highly selective civic leadership training institutes across the country.
Michael is a native Bostonian, a graduate of Cornell University School of Industrial and Labor Relations and Boston College High School, and is a huge Boston sports fan.
Panelists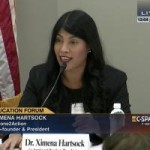 Ximena Hartsock is the President and co-founder of Phone2Action, a venture-backed, award-winning civic technology startup based in Washington, D.C.
Prior to founding Phone2Action she was a member of the executive cabinet of former Washington, D.C. Mayor Adrian Fenty, serving as the Director of the Department of Parks and Recreation and later as the Chief of Staff of the City Administration. As Parks Director, she managed a $41M annual operating budget and more than 1,000 employees. During her tenure, she oversaw renovations of DC public pools, the completion of DC's state of the art Olympic facility, Wilson Pool, the construction of numerous athletic fields and parks, and the implementation of wellness programs for seniors, youth and families.
Before this position, Hartsock was DC Public Schools Deputy Chief for Teaching and Learning under the education overhaul led by Michelle Rhee and Adrian Fenty. In that role she led key reforms, including the expansion of online learning, International baccalaureate and Dual Language programs, the implementation of a comprehensive "out of school time" program that served students after-school, on weekends and in the summer, and the implementation of a credit recovery program for students at risk of dropping out that helped improve DC's historically low graduation rates. Hartsock came to that position after working in DC Government as a federal project administrator, and school principal.
In 2013, her company Phone2Action won the prestigious SXSW Interactive Technology competition. Phone2Action has been featured, among others, in the Washington Post and New York Times. In addition to her responsibilities at Phone2Action, Hartsock serves on the Board of Industry Leaders of the Consumer Electronics Association (CEA).
A native of Chile, she holds a Doctorate in Policy Studies and Administration from The George Washington University.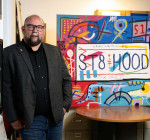 Bo Shuff has spent the last twenty years on the front lines of both electoral and advocacy politics. Or, as the Washington Post described him, Bo is a 49-year-old, opinionated, gay, cake baking, glass blowing political consultant, advocate and Washington won.