World Premiere: A Death You Could Die By?
Starts: Thursday, Jul. 16 4:00 PM (Eastern)
Ends: Thursday, Jul. 16 5:00 PM (Eastern)
​The creative team behind Who Is Dayani Cristal?'s social impact campaign has produced a new short video ​addressing global migration. Come join the world premiere! Enjoy cookies and coffee after lunch but before the next panel sessions while watching this amazing, never seen before film piece.
Following the film, join in a discussion with the film's producer and strategist
Lina
Srivastava, Colibrí Center for Human Rights Co-Founder Robin Reineke, and Tania Unzueta of #Not1More.  They will talk about the impact of the campaign around
Who Is Dayani Cristal?
, including challenges and successes, and have an interactive discussion with the audience on how to use storytelling and media for social impact in efforts towards immigration reform and migrant rights.
The producers are graciously funding a critical portion of the JustSeeds mural being painted in Downtown Phoenix this week. Without this amazing group of trans-media storytellers this mural would not have happened.
Panelists
Robin Reineke is the co-founder and Executive Director of the Colibri Center for Human Rights, a nonprofit organization that advocates for families of missing and lost migrants, last seen crossing the US-Mexico border. Reineke co-founded Colibrí building on nearly a decade of work to support migrants' human rights through forensic science, anthropology, and advocacy. From Seattle, Washington, Reineke received a BA in anthropology from Bryn Mawr College, and an MA in anthropology from the University of Arizona, where she is currently a doctoral candidate in the School of Anthropology, completing her dissertation. Her work has been featured in the BBC, the New York Times, TIME Magazine, the Los Angeles Times, The Economist, The Nation, and the documentary film, Who Is Dayani Cristal? In 2014, she was awarded the Institute for Policy Studies' Letelier-Moffitt Human Rights Award, and was honored as one of Tucson's "40 Under 40" by the Tucson Hispanic Chamber of Commerce. She is an Echoing Green Global Fellow.
Other sessions: Water, Drought and Climate Change in the Southwest and Beyond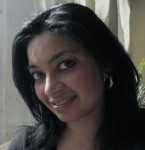 Lina Srivastava is a strategist who works in narrative design, social innovation, and storytelling for human rights and international development. She is the founder of a social innovation strategy group in New York City and co-founder of Regarding Humanity. She has worked with a group of social impact organizations such as UNESCO, the Rockefeller Foundation, and the World Bank, and has worked with impact campaigns for several documentaries, including Born into Brothels, The Devil Came on Horseback, Inocente, and Who Is Dayani Cristal? A former attorney and former Executive Director of Kids with Cameras and the Association of Video and Filmmakers, Lina is on faculty in the Masters of Fine Arts Program in Design and Social Innovation at the School of Visual Arts.