Starts: Thursday, Jul. 16 3:00 PM (Eastern)
Ends: Thursday, Jul. 16 4:00 PM (Eastern)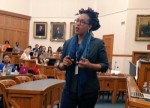 Angelique Roche is an attorney, educator and communications professional with experience in advocacy, legislative policy and electoral politics. Prior to joining the Ms. Foundation, she was the campaign manager for Nina Turner for Ohio Secretary of State.
Roche has worked in both local and national organizing, having served as a regional field director for Organizing for America North Carolina and as a campaign director for MomsRising.org. She currently owns her own consulting firm, A Squared Strategies.
Roche is the founder of The Washington Middle School for Girls Civic Engagement Program, an externship giving young women in Washington, DC the opportunity to engage in hands-on civics classes at the U.S. Capitol.
Roche currently serves as a board member at the Women's Campaign School at Yale University. She holds a LL.M in International and Comparative Law, a Juris Doctorate and a Bachelors of Arts in Mass Communications.
Other sessions: TWiB! Prime Live From NetRoots Nation