Screening and Q&A: "She's Beautiful When She's Angry"
Starts: Friday, Jul. 17 3:00 PM (Eastern)
Ends: Friday, Jul. 17 4:30 PM (Eastern)
"She's Beautiful When She's Angry" tells the story of the outrageous, often brilliant women who started the women's liberation movement in the late 1960s.  "She's Beautiful" is a film about the power of discovery and of organizing. It focuses on grassroots groups across the country like the Boston authors of "Our Bodies, Ourselves," the ground-breaking women's health book, and the women of Jane, the underground abortion service in Chicago. "She's Beautiful" covers the early days, from 1966 to 1971, and shows the achievements of the movement, as well as the conflicts that arose over race, class and sexual orientation.
Discussion of the film will continue in the showcase immediately following.
Panelists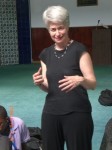 Heather Booth is one of the country's leading progressive issue campaigns strategists.
She has been an organizer starting in the civil rights and women's movement.
She was the founding Director of the Midwest Academy, training social change leaders and organizers. She has been in many political campaigns and was Training Director of the DNC. In 2000, she was the Director of the NAACP National Voter Fund, which helped increase African American turnout by nearly 2 million votes. She has been consultant to many social change groups including MoveOn.org and National Council of La Raza. She was the lead consultant founding of the Campaign for Comprehensive Immigration Reform. She was director of the AFL-CIO Health Care Campaign. She was the founding director of Americans for Financial Reform, fighting to regulate the financial industry. She is now strategic advisor to the Alliance for Citizenship, the Voter Participation Center and NOW.
Other sessions: Hearts and Minds: A Film Showcase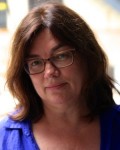 Mary Dore is an award-winning documentary producer who brings an activist perspective to her films. Dore grew up in Auburn, Maine and began her career working with a Boston film collective that produced independent historical documentaries, including Children of Labor (1977) which premiered at the New York Film Festival. She has produced television series for Maine Public Broadcasting and 13/WNET in New York. She produced and co-directed the feature documentary The Good Fight: the Abraham Lincoln Brigade in the Spanish Civil War (with Noel Buckner and Sam Sills), which screened at the Toronto, Sundance, and London Film Festivals. She has produced dozens of television documentaries for PBS, New York Times TV, A&E, and the Discovery Channel. Her TV work has won an Emmy, Cine Golden Eagles, and Cable Ace Awards. Dore lives in Brooklyn, NY, with her husband and two sons.
Other sessions: Hearts and Minds: A Film Showcase