Making it Rain: Donor Research and Baller Asks
Session Type(s): Training
Training Tag(s): Basic Online Organizing
Starts: Thursday, Jul. 16 1:30 PM (Eastern)
Ends: Thursday, Jul. 16 2:45 PM (Eastern)
Improving your fundraising is critical, whether you're running a small grassroots campaign or running for office. Our exercise-based curriculum will help you learn hands-on how to research donors and ask for money more effectively. And when progressives can raise more grassroots dollars, we win more. It's that simple.
Trainers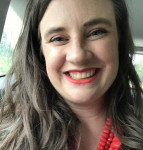 Lacey Connelly has been working on campaigns for 17 years. Starting as an intern Opposition Researcher during the 2004 Illinois Senate primary (where her boss lost to a little known State Senator named Barack Obama), she went on to work as a Field Organizer, Direct Mail Consultant, Compliance Manager, Training Director, and eventually, Caucus Director for the West Virginia House Democrats. She left the Caucus in 2021 to start her own business as a Burnout Recovery & Stress Management Coach working primarily with progressives doing political work.
Lacey has lived in big cities across the country, but her heart lies in the small towns of Appalachia. She loves working with organizers and candidates whose passion is making change on the local and state level. At her core, she believes that the purpose of government is to help people.
When she's not coaching or training up-and-coming superstars with the NDTC, you'll probably find Lacey teaching a yoga class via Zoom, reading with a cat or dog on her lap, or camping in the West Virginia hills.
Other sessions: The Revolutionary Conversation: Changing the World One Voter at a Time, Saving Millions with Earned Media: How to Organize Kick-Ass Press Events and Get Your Campaign Covered