Lights, Camera, Protest
Starts: Thursday, Jul. 16 6:45 PM (Eastern)
Ends: Thursday, Jul. 16 8:00 PM (Eastern)
Come to learn tactical skills on how to produce your own light-based protest signs from the ones who do it best. Bring a camera if you have one and a mind ready to learn about extended exposure photography and how to make protest signage that sends a visually powerful message that, when paired with protest music, can make your message even more effective.
Moderator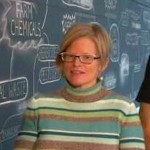 Lisa Moline is an artist and designer living and working in Milwaukee. She and her partner Lane Hall have been working collaboratively for over 20 years. Their research presents an associative reinterpretation of natural sciences, exploring the boundaries between the natural and the technological. Their major projects include installations for the California Academy of Sciences, the Madison Museum of Contemporary Art, the Milwaukee Art Museum, the Brooklyn Museum of Art, Science Gallery at Trinity College, Dublin, the Miller Gallery at Carnegie Mellon University, the Block Museum at Northwestern University, and the Wisconsin Academy of Sciences, Arts and Letters. Their videos have been shown in the UN Pavilion at the Shanghai World Expo in China, and in Berlin, Germany, at the Kolbe Museum and the Neuen Gesellschaft for Bildende Kunst.
Panelists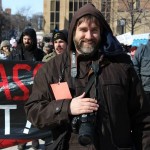 Joe is an educator, digital media strategist and core organizer with the Overpass Light Brigade (OLB) in Milwaukee, WI, and has played a key role in expanding the Light Brigade Network to its current count of 50 chapters worldwide. In addition to organizing, he handles OLB's digital online presence and the photography of street actions. His photos are posted under the name Light Brigading, and have received almost 7 million views since 2012. Joe also serves as the Social Media Membership Organizer for the Milwaukee Teachers' Education Association, where he is in charge of the union's social media strategy.
Other Relevant links to Joe's work:
OLB Facebook page: https://www.facebook.com/OverpassLightBrigade?fref=ts
Flickr page: https://www.flickr.com/photos/40969298@N05/sets
Blog: http://occupyriverwest.com/
Personal Twitter Account: https://twitter.com/JosephBrusky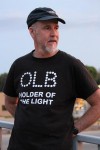 Lane Hall is a multi-media artist, writer and educator at UW-Milwaukee. He has been active in the recent political struggles in Wisconsin, and has been extensively engaged in artistic activism at both street and institutional level. He is a co-founder of the Overpass Light Brigade (OLB) which is a direct action group aimed at DIY political messaging, visibility, and the creation of community through peaceful protest. OLB has spawned an international movement of Light Brigades that is currently comprised of over fifty chapters within the USA, Germany, the UK and New Zealand, all focusing on regional social justice struggles and broader collaborations and campaigns.
More information about OLB can be found at:
overpasslightbrigade.org
facebook.com/OverpassLightBrigade
en.wikipedia.org/wiki/Overpass_Light_Brigade
beautifultrouble.org/tactic/light-brigade/
olbfilm.com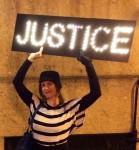 Athena Soules became involved in activism in 2011 at the beginning of Occupy Wall Street, when she created the black and white Occupy banner that defined the space of virtually every Occupy action and was used at the front of nearly every march. In 2013, she cofounded the NYC Light Brigade and has since organized and led dozens of actions. The NYC Light Brigade has shed light on a broad range of social-justice issues, including tax evading corporations, the NSA, the People's Climate March, the Black Lives Matter movement and participated in various rallies and vigils for specific victims of police violence. NYC-LB has frequently collaborated with The Illuminator Collective, and participated in artist Ai Weiwei's twitter campaign #FreeExpression, with an action outside the Brooklyn Museum during the opening of his exhibition, "According to What". Using bold banners and lighted signs, Athena fights for justice both day and night.