Creative Disruption: Culture Jamming, Subversive Actions and Media Tactics for a 2.0 World
Session Type(s): Panel
Starts: Saturday, Jul. 18 6:00 PM (Eastern)
Ends: Saturday, Jul. 18 7:15 PM (Eastern)
How can we use creative disruption to interrupt injustice, advance our campaigns and shift culture? We'll explore the evolution of tactics in the age of social media, where our ability to capture the imagination of our audience determines the scale of our impact. Join us to discuss how to incorporate culture jamming, creative actions and media stunts into campaigns and to explore the broader concepts that make these tactics succeed or fail. Whether holding fake press conferences, creating spoof ads or glitterbombing presidential candidates is your thing, this panel is sure to have something to grab your attention.
Moderator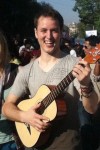 Nick helped launch the Occupy Homes movement and led a successful campaign to save his family's home from foreclosure. At age 15 he watched as his father, an Ecuadorian immigrant, was suddenly deported, an experience that would shape his activism. He made international news after he started the "glitterbomb" trend by dumping glitter on Newt Gingrich for his anti-equality politics.
Panelists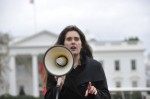 Liz has over 20 years of experience organizing and campaigning on critical issues, with a focus on both corporate and legislative campaigns. She has worked with MSC as the Network Organizing Project Director where she works with a range of social justice, economic justice, and environmental justice, including 99% Spring, fracking, OUR Walmart and was previously the Campaign Director (Executive Director/CEO equivalent) of 1Sky, a large-scale collaborative climate campaign with over 600 allies, 4500 local leaders, and 200,000 citizen advocates. Liz managed a successful merger of 1Sky with 350 in 2011 after helping build and execute a successful campaign on climate and clean energy. Prior to 1Sky, Liz was a co-founder of ForestEthics, where she spent 10 years as the Organizing Director.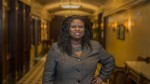 Nekima Levy-Pounds is a professor of law at the University of St. Thomas School of Law and the founding Director of the Community Justice Project, a civil rights legal clinic. Nekima is also the President of the Minneapolis Chapter of the NAACP, a civil rights attorney, legal scholar, blogger, podcast host, and national expert on issues at the intersections of race, public policy, economic justice, public education, juvenile justice, and the criminal justice system. She serves as an advisor to Black Lives Matter Minneapolis. In 2015, she was named one of 40 Under 40 by Minneapolis/St. Paul Business Journal. In 2014, she was named Attorney of the Year by Minnesota Lawyer and recognized as one of 50 under 50 Most Influential Law Professors of Color in the Country by Lawyers of Color magazine. She has a heart for the people and works toward achieving justice for those whose voices are often unheard within society.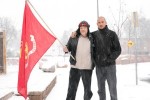 "Anthony Newby is a North Minneapolis community organizer and social change advocate currently working with Neighborhoods Organizing for Change. A longtime Real Estate entrepreneur, his inside perspective on the Bank and financial world has helped in the unique success of Occupy Homes MN. Anthony also has extensive experience in disaster relief, having helped to create a highly touted social media platform to deliver aid in the wake of a tornado that devastated Minneapolis' most undeserved neighborhood in 2011. His desire to place a solid focus on the human component of the financial crisis has helped make the Homes work in Minnesota one of the most compelling organizational models in the country."
Other sessions: Reclaiming Media in the New Dawn of Black Liberation