Beating Back Burnout Culture in the Progressive Movement
Session Type(s): Training
Starts: Saturday, Jul. 18 6:00 PM (Eastern)
Ends: Saturday, Jul. 18 7:15 PM (Eastern)
While committing one's life to the service of others is valiant, doing so at the cost of one's personal sustainability is counter-productive. The path to a sustainable progressive movement begins with investing in our own personal health, happiness and long-term vision for our careers. In this training, Emilie Aries, founder of personal and professional development training organization, Bossed Up, will review the latest research on burnout, its root causes, and how we all can do more to foster a climate of sustainable success—for ourselves and our movement.
Trainer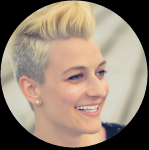 Emilie Aries is the founder and CEO of Bossed Up, a personal and professional training organization that helps women craft sustainable careers. Emilie's helped hundreds of women across the country navigate career transition and prevent burnout, and was recently awarded a Young Women of Achievement Entrepreneurship award by the Women's Information Network.
This past fall, Emilie delivered a TED talk on the "Power of No" about drawing healthy boundaries and investing in sustainable long-term achievement.
Previously, Aries served in politics as a digital strategist and grassroots organizer, with an array of online and offline campaign experience. She earned her B.A. in political science from Brown University and completed a Fellowship on Organizing at the Harvard Kennedy School of Government.
Other sessions: The Second Shift in 2015: Why #TooBusyToFail Burnout Culture is Hurting Us All