7 Legal Rules for Online Advocacy That Everyone Should Know
Session Type(s): Training
Training Tag(s): Basic Online Organizing
Starts: Thursday, Jul. 16 1:30 PM (Eastern)
Ends: Thursday, Jul. 16 2:45 PM (Eastern)
Can a c3 lose its tax status over a careless tweet? What happens when a politician "likes" your organization's Facebook page? Social media can help an organization shape public policy, but it comes with its own set of rules and regulations. Many nonprofits are hesitant about engaging in online advocacy, but knowing these rules can strengthen your work! Join us for a training that will clarify the rules for using social media, blogs and email as part of your advocacy toolkit. Trainers will give concrete examples and invite the audience to discuss hypothetical situations to develop a deeper understanding of the rules that apply to online advocacy.
Trainers
Isaiah grew up in Jackson, Mississippi, where everything is deep-fried, including the politics. Isaiah served as Deputy Finance Director for the Musgrove for United States Senate Campaign, North and Central Regional Finance Director for the Alex Sink for Governor Campaign in Florida, and Finance Director and Counsel for the Bill Luckett for Governor Campaign and Progress for Mississippi PAC. While working in politics, Isaiah gained experience in fundraising and campaign finance. Today, Isaiah serves as Advocacy Programs Counsel at the Alliance for Justice. At AFJ, Isaiah uses his campaign experience and his legal education to help nonprofit organizations effectively use the power of advocacy. Advocacy law is the perfect fit for him because he is deeply passionate about fighting for justice and helping nonprofit groups around the country find their voice.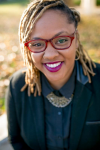 Shanelle Matthews is an award-winning political communications strategist with a decade of experience in journalism, legislative, litigation, rapid response, and campaign communications. She serves as the Director of Communications for the Black Lives Matter International Network, a network of more than 40 chapters working to rebuild the Black liberation movement and affirm the lives of all Black people. Previous to that she served as the Deputy Communications Director for the Sierra Club, leading communications strategy for Beyond Coal and worked as a strategist for the ACLU of Northern California. She believes in using communications both as a tool for social change and to win. As an alumna of Progressive Women's Voices, the Women's Media Center's premier media and leadership training program for women, Shanelle has executed her training as a spokesperson in outlets like Al Jazeera and NPR. She serves on the board of directors of the National Network of Abortion Funds and Rewire. She holds a degree in Journalism and New and Online Media from the Manship School of Mass Communications at Louisiana State University. She is a lover of cheese, Afro-jazz, and bourbon. She lives and plays in Oakland.
Other sessions: You don't have to know Jay-Z: Activating untapped networks of artists