Twitter Training for Campaigning: Strategies to Win and Build Community
Session Type(s): Training
Training Tag(s): Advanced Online Organizing
Starts: Saturday, Jul. 19 1:30 PM (Eastern)
Ends: Saturday, Jul. 19 2:45 PM (Eastern)
Twitter is the platform of choice for political activists, reporters and candidates; a politically hyper-engaged audience who mold the conversation nationally. This session will guide you through advanced strategies for campaigns and nonprofits to educate the public, influence the media and win your election. We will discuss tactics to grow targeted audiences, turbo-boost messaging and engage users for collective action on your behalf. At all times, we will focus on winning strategies using case studies and solid measurement. Audience participation will be welcomed and encouraged.
Trainers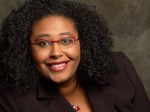 Affectionately known as "Dr. Goddess," Kimberly C. Ellis, Ph.D. is a Scholar of American and Africana Studies, an Artist, Activist and Entrepreneur. An international thought leader on culture, gender and social technology, she a published author, speaker and producer with many successful campaigns. Dr. Goddess is a staple presenter at Netroots Nation, PDF and SXSW and her writings and appearances can be found across the internet, from Alternet, Ebony and BlackEnterprise, to HuffPostLive, Al Jazeera America and radio programs on NPR, BBC_WHYS, Voices of Russia, MomsRising and Sirius XM. She is also in the WMC's "SheSource" Directory. Dr. Goddess is the Digital Director of the National Black Theatre Festival, co-founder of #AskaSista, founder of the civic tech project, #BlackPoliticsMatter, author of the upcoming book, "The Bombastic Brilliance of Black Twitter," and the producer of "You're Beautiful to Me," a feature documentary film about the journey with her Mother's dementia.
Other sessions: Daring to Internet While Female, Ask a Sista: Black Women Muse on Politics, Policy, Pop Culture and Scholarship
Zach Green is a consultant, developer and organizer who has been working at the intersection of Twitter and politics since 2010. He founded UniteBlue.org, a nonprofit that connects and organizes the Left on Twitter, and 140elect.com, which helps Democratic campaigns leverage Twitter to win elections. His projects and analyses have received over 2,000 press mentions, including the New York Times, TIME and the Washington Post.