Underwriting Good Jobs
Session Type(s): Panel
Starts: Saturday, Jul. 19 12:30 PM (Eastern)
Ends: Saturday, Jul. 19 1:15 PM (Eastern)
As the largest purchaser of goods and services in the country, the federal government is also the nation's biggest low-wage job creator. But it doesn't have to be this way. Find out how President Obama can lift millions out of low-wage work with a swipe of his pen.
Panelists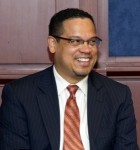 Currently serving as Minnesota's 30th Attorney General, Keith Ellison is the first African American and first Muslim American to be elected to statewide office in Minnesota. Before becoming AG, Ellison represented Minnesota's 5th District in Congress where he focused on consumer, worker, environmental, civil- and human-rights protections for Minnesotans. As Minnesota's AG, Ellison has championed affordable health care, a fair economy, and equal opportunity for all. Ellison has opposed a new rule revoking legal status for immigrants accessing public assistance, created a unit within the office of the Attorney General that focuses on investigating and prosecuting abuse of workers and wage theft, as well as filing lawsuits against opioid manufacturers. Following the killing of George Floyd, Governor Walz appointed AG Ellison to prosecute the case.
Other sessions: Beyond Livable Wage: Creative Strategies to Get to the Root of Inequality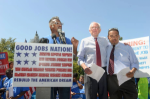 Joseph Geevarghese is the Executive Director of Good Jobs Nation.
The mission of Good Jobs Nation is to hold the President and all politicians – whether Democrat or Republican – accountable to America's workers.
By mobilizing workers both on the streets and online, we are demanding that elected officials invest our taxpayer dollars in corporations that create good union jobs in the USA – not firms that keep workers in poverty and ship our jobs overseas.
Since 2013, Good Jobs Nation has won 3 historic executive orders to raise wages, crack-down on labor law abuses, and extend paid leave at companies that receive federal funding. Good Jobs Nation has also been at the forefront of the fight to raise the minimum wage to $15 an hour and to safeguard the freedom of workers to organize alongside US Sen. Bernie Sanders and Keith Ellison.