LIVE: The Good Fight, with Ben Wikler, powered by MoveOn.org
Session Type(s): Special Event
Starts: Thursday, Jul. 17 10:30 AM (Eastern)
Ends: Thursday, Jul. 17 11:45 AM (Eastern)
David versus Goliath fights, told from the behind-the-slingshot point of view: that's "The Good Fight, with Ben Wikler," the award-winning, MoveOn-powered podcast and radio show about people changing the world. And it's taping an unmissable live episode right from the heart of Netroots Nation.
Be a part of it! Your hoorays and boos will power the Win-O-Meter in a special edition of the Win Report, your friends will wow you with career-making cameos in wickedly satirical comedy sketches, and your heart will soar as you hear progressive champions reveal the true stories of against-all-odds fights for a better world. Bring tissues to dry your tears, lozenges to rescue your cheering-hoarse voice… and a unquenchable thirst for victory.
Panelist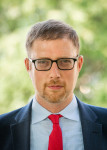 Ben Wikler was elected chair of the Democratic Party of Wisconsin in June of 2019. Now in his second term, he has led the party through an unbroken string of statewide victories, including Wisconsin's defeat of Trump in 2020, and built the WisDems to a new level of success and recognition as a force for progressive change.
Prior to serving as Chair, Wikler served as Washington DC Director and Senior Advisor for MoveOn, where he played a key leadership role in the successful battle to save the Affordable Care Act and Medicaid, as well as many of the other fights for economic, social, and racial justice of recent years. A lifelong activist, Wikler grew up in Madison, Wisconsin, where he first volunteered in politics at age eleven, stuffing envelopes for the Congressional campaign of his godmother, Ada Deer. In high school and college, he volunteered for then-Assemblywoman Tammy Baldwin, interned for Ed Garvey and Sen. Russ Feingold, and fell in love with his now-wife Beth while putting up posters together for a protest. Ben and Beth now live in Madison with their three children and their puppy, Pumpkin.
Other sessions: Everything You Need to Know to Run a Progressive Startup You Learned at this Panel