Issue Campaigns Aimed at Congress
Session Type(s): Training
Training Tag(s): Grassroots Organizing/Campaigns
Starts: Thursday, Jul. 17 1:00 PM (Eastern)
Ends: Thursday, Jul. 17 2:15 PM (Eastern)
The theory and practice of issue campaigns aimed at Congress can be complex. In this session, we'll talk about the self interests of members of Congress and how media can affect the behavior of members. We'll also cover messaging, tactics and timing so that your issue campaign will be as succesful as possible.
Trainers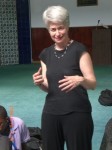 Heather Booth is one of the country's leading progressive issue campaigns strategists.
She has been an organizer starting in the civil rights and women's movement.
She was the founding Director of the Midwest Academy, training social change leaders and organizers. She has been in many political campaigns and was Training Director of the DNC. In 2000, she was the Director of the NAACP National Voter Fund, which helped increase African American turnout by nearly 2 million votes. She has been consultant to many social change groups including MoveOn.org and National Council of La Raza. She was the lead consultant founding of the Campaign for Comprehensive Immigration Reform. She was director of the AFL-CIO Health Care Campaign. She was the founding director of Americans for Financial Reform, fighting to regulate the financial industry. She is now strategic advisor to the Alliance for Citizenship, the Voter Participation Center and NOW.
Robert Creamer has been a political organizer and strategist for over four decades. He is a Partner in the firm Democracy Partners and serves as General Consultant to Americans United for Change. He has been a consultant to the campaigns to defeat the privatization of Social Security, end the war in Iraq, pass universal health care, hold Wall Street accountable, pass progressive budget priorities, and enact comprehensive immigration reform.
In the 2008 Presidential Election he worked for the Democratic National Committee as National Coordinator of field based rapid response to Republican candidates McCain and Palin. He has worked on hundreds of electoral campaigns at the local, state and national level. He is also a regular contributor to the Huffington Post and author of Stand Up Straight: How Progressives Can Win. Creamer is married to Congresswoman Jan Schakowsky from Illinois.