FunnyRapidResponse.Com: Making Hyper-Shareable Microsites That Change The Political Conversation Quick
Session Type(s): Training
Training Tag(s): Advanced Online Organizing
Starts: Saturday, Jul. 19 3:00 PM (Eastern)
Ends: Saturday, Jul. 19 4:15 PM (Eastern)
Microsites – quick, simple novelty sites like EtchASketchRomney that often appear as near-immediate rapid response to something happening in the news.
They are increasingly a huge part of the online political conversation, whether it's how organizations present their latest videos or how a sole activist decides to wreak havoc with a corporation or candidate for a day.These can be incredibly effective at capturing a news cycle – and incredibly cost-efficient, requiring minimal effort for maximum online reach. But they can also be an incredible headache if done wrong.
We'll examine some of the best examples of sites that have done this right and wrong, and offer pointers to both organizations and individual activists on how they can turn around political-conversation-shifting microsites in no time flat, while making their effort worth it.
Trainer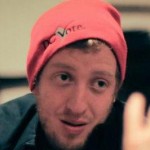 Kelly Mears is Chief Technical Officer at Other 98%. As a founding organizer of Occupy DC, Kelly trained dozens of "non-techies" in web development and livestreaming, and organized "hackathons" with groups around McPherson Sq., including a project providing a mesh network wireless access point to the park. In late 2012, Kelly gained national attention when he embarked upon a hunger strike to raise awareness about DC voting rights.
Kelly grew up splitting his time between family in Elkins, West Virginia and Myrtle Beach, South Carolina. He graduated from Bard College in New York in 2009. When not programming, Kelly often finds himself drinking water and eating food, like all carbon-based life. He's somewhat concerned about the sustainability of this practice, but in the meantime also finds himself making noise, considering the absence of meaning, and loving to the best of his abilities.