Targeting Without A Model: Smart Planning for Local Races
Session Type(s): Training
Starts: Saturday, Jun. 22 4:30 PM (Eastern)
Ends: Saturday, Jun. 22 5:45 PM (Eastern)
In this session you'll learn how to target local races using basic data-mining skills. You'll learn how to extract data from a voter file, find patterns in voter contact responses and extrapolate that information out to a set of voters that your campaign can persuade. After this session, you'll be able to maximize your voter contact resources and put your campaign over the top.
Trainers
Matthew "Mudcat" Arnold is the Director of Campaigns at Counterpoint Messaging. Matthew has worked in 29 states, covering dozen of campaigns for state and federal office. He is a frequent a speaker at conventions and progressive gatherings across the country. He's run campaigns for progressive champions like Lloyd Doggett, Mary Jo Kilroy, and Darcy Burner. Mudcat has designed sophisticated organizing operations for MoveOn.org, the Sierra Club, and a host of other non-profit, international, and public affairs clients.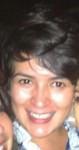 Victoria is a seasoned campaigner, getting her feet wet at New York University where she actively organized students to support Adjunct professor unionizing efforts. She since savored her social justice appetite on a variety of NGO's including; student organizing, domestic violence work, and immigrant rights work. She nationally organized with United Students Against Sweatshops before her electoral debut in NM '08, where she successfully swapped her county blue and began her sometimes contemptuous relationship with electoral work. She has since worked with the DNC in Los Angeles, and in '10 was successful in saving a competitive Congressional seat as the NM1 Field Director. She is currently the Deputy Political Director for the Cesar Chavez' United Farm Workers. Victoria trains with Democracy for America and Wellstone Action and dubs as a yoga teacher.
Victoria identifies as Chicana, a lover, resister, activist, dancer, yogi, and mom.