Ideas to Action: Launching a People-powered Campaign for Change
Session Type(s): Training
Starts: Saturday, Jun. 9 3:00 PM (Eastern)
Ends: Saturday, Jun. 9 4:15 PM (Eastern)
Molly Katchpole took on Bank of America's $5 fee. Katy Butler fought to give "Bully" a "PG-13" rating so students can see the film. Saudi women successfully got the world's top diplomats, like Secretary of State Clinton, to support their right to drive. From local concerns to global issues, people are winning campaigns every day. This training will be a hands-on, interactive workshop for individuals and small organizations to start and run their own campaign. We'll start with how to create a solid theory of change, brainstorm creative tactics and tools, and talk about strategies for reaching the media and getting a response from your decision-maker. You'll leave this workshop with the knowledge to plan a strategic campaign and the skills to launch it in the room, so bring your laptops and ideas.
Trainer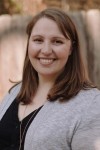 Lola Elfman Greene is a founder and CEO of DevelopWell, as well as a Leadership Coach and Master Trainer with a passion for creative learning and social change.
DevelopWell is a womxn-owned and operated coaching and consulting practice that develops leaders and teams in values-driven organizations with a holistic and innovative approach. Our team brings years of experience from the technology, organizing, and People & Culture fields to ensure our clients are employing the best structures and practices that will allow their teams to achieve their full potential.
Lola's work focuses on developing strong leaders and teams through coaching, team building, and talent development. She has set the standard for engaging and productive team retreats and meaningful management practices with groups like ActBlue, Sunrise Movement, UltraViolet and others.
Lola believes that everyone is a leader, not just line managers or the C-Suite, and that everyone has the potential to positively impact their organization, their families, and the world.