Social Media Strategy for Advocacy
Session Type(s): Training
Starts: Thursday, Jun. 7 4:30 PM (Eastern)
Ends: Thursday, Jun. 7 5:45 PM (Eastern)
Room: 554
Come to this session for the down and dirty details of how to successfully use social media in political advocacy. We'll focus on the integration of social media into your personal advocacy efforts.
Trainers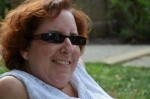 Beth brings 20+ years of communication and marketing background to politics where she has consulted for numerous House campaigns, non profits and unions. Beth travels the country doing 2 and 3 day digital organizing trainings and working with clients on implementing a digital strategy that respects their organizational goals. As a contributing blogger at epolitics.com and avid activist, Beth shares her knowledge to help the progressive movement use digital with offline to win. In her downtime she can be found at the nearest shoe store, a Nats game or country concert.
Other sessions: Tweeting the Revolution: Twitter Training for Campaigning
Alan Rosenblatt is a social media and online advocacy strategist for the Center for American Progress/CAP Action Fund. Alan taught the world's first internet politics course at George Mason University in 1995. He founded the Internet Advocacy Roundtable; teaches internet politics at Johns Hopkins, Georgetown, and American Universities; blogs at BigThink.com, DrDigipol.Tumblr.com, and occasionally at HuffingtonPost.com, TechPresident.com, and KStreetCafé.com; serves on E-Democracy.org's board of directors; and was a 2008 fellow at George Washington University's Institute for Politics, Democracy & the Internet. Alan has a Ph.D. in Political Science from American University. On Twitter @DrDigipol, @ProgressLeague, and @CAPAction.